Penn State getting insane ahead of Auburn matchup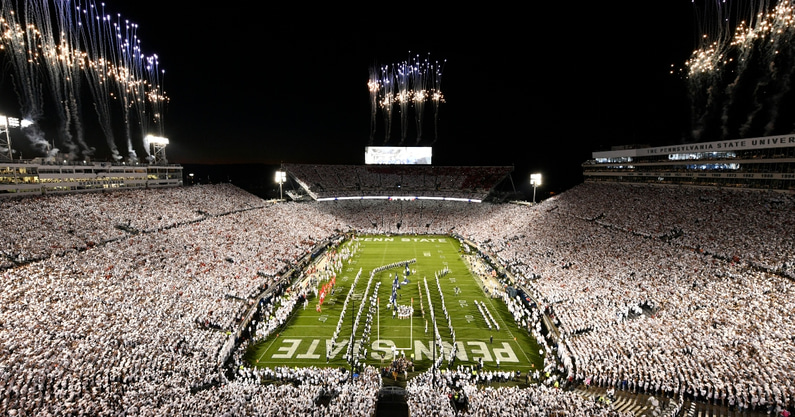 The hype is real for Penn State and Auburn this weekend. With the all-important matchup taking place this weekend, State College is getting rowdy all week.
With College GameDay on their way and the famous white-out taking place this weekend, Nittanyville has been rocking all week.
For those unfamiliar, Nittanyville is where hundreds of students camp outside Beaver Stadium for an entire week leading up to the game. The end goal? To get front row seats.
Additionally, another video showcased the tents students have made their home in anticipation for Saturday's game.
As you can see, the Nittany Lions faithful is ready to rage this weekend. While the Auburn Tigers have handled the rigors of the SEC in the past, traveling to Penn State is a new challenge for the university.
Coming into the game, both teams have won their first two matchups. While Penn State defeated Wisconsin and Ball State, Auburn has victories over Akron and Alabama State.
James Franklin's squad was tested against top competition already, but Bryan Harsin's team hasn't faced a team close to the level of Penn State yet. Whether that matters or not remains to be seen, but Auburn has its work cut out for them.
James Franklin makes hilarious offer to Penn State fans
James Franklin has an offer for Penn State fans this weekend. As No. 22 Auburn heads to No. 10 Penn State for the Nittany Lions' annual Whiteout Game, the Nittany Lions head coach knows the environment for these contests is always rowdy.
However, on Tuesday, Franklin asked the fanbase to take it up a notch. 
"I am willing to buy throat lozenges on Sunday for the entire fanbase if that means that we have the most challenging environment in all of sports," Franklin said. "I'm willing to buy Hall's for everybody that loses their voice on Saturday. Hall's – we'd appreciate your support with this as well."
Beaver Stadium seats 106,572 people, making it the second-largest college football stadium in the country behind conference rival Michigan. Franklin asked that every seat be filled, pleading with the fanbase to make sure their ticket is used should they opt-out of attending the game. 
"We want this place rocking," Franklin added. "I want these [Auburn] fans and this staff and these coaches to go back to the SEC and say 'I know we love our football in the SEC, but what they do up there at Penn State is special, and I don't know if I've ever seen anything like it.'"
Auburn is well aware of the impending loud environment and is practicing this week in situations simulating what Happy Valley will feel like on Saturday. Of course, nothing at practice this week will completely mimic what waits for the Tigers in a few days. 
On3's Ashton Pollard contributed to this article.