WATCH: Micah Parson makes passionate plea to recruits on Penn State football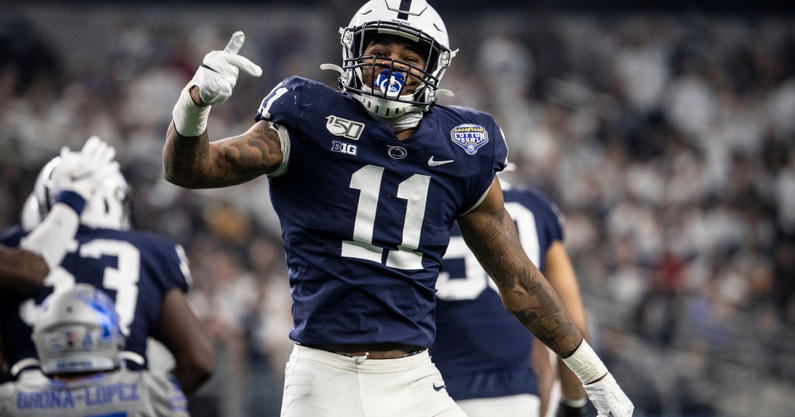 College coaches are always looking for a way to get a leg up in recruiting and using former players currently starring in the NFL is a common tactic. Penn State is no different, where former linebacker Micah Parsons is attempting to help the Nittany Lions bring some of the best to Happy Valley.
In a recent video released by the Penn State Football Twitter account, Parsons sent out a passionate plea to recruits. More specifically, those from the state of Pennsylvania who plays linebacker. He said there is nobody better to play for than head coach James Franklin and Parson credits him with his early NFL success.
"If you're from Pennsylvania and you don't go to Penn State, LBU, to play for Coach Franklin," Parsons began. "Then you, my friend, are crazy. My dreams, my vision all came true under hard work and under Coach Franklin's vision. So if I were you, I would come here too."
Parsons was a highly touted recruit coming out of high school himself. Programs from across the country extended him offers as one of the nation's top linebackers but he opted to stay in the state of Pennsylvania. Now, he's pleading with others to do the same.
In the 2023 recruiting class, linebacker Ta'Mere Robinson is the No. 3 overall player within the state and as things stand, Penn State leads on the RPM at 93%. Pittsburgh is the other team involved as it's becoming a battle between the two rivals.
Robinson is exactly the kind of player Parsons is talking about in the video, wanting the best inside the state to play for the Nittany Lions. It worked out for him, getting drafted early in the first round of the NFL Draft by the Dallas Cowboys before winning the NFL Defensive Rookie of the Year.