Pro Football Focus names Landon Tengwell guard most likely to break out in 2022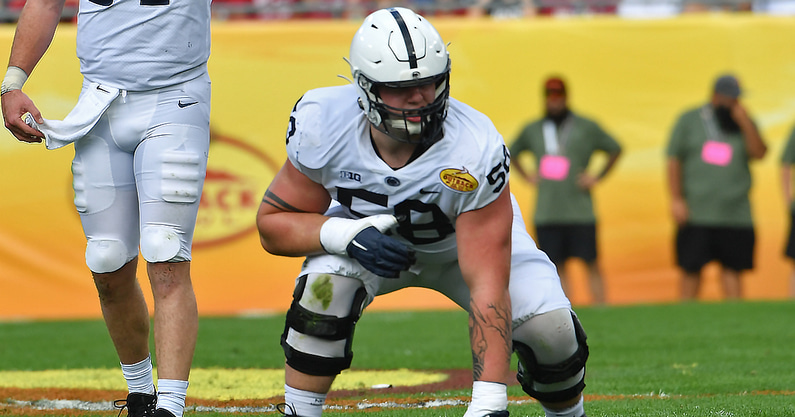 The Penn State Nittany Lions dealt with a banged up offensive line room this spring but even so, the O-line features one of the team's brightest stars. Pro Football Focus released their list of breakout candidates at every position this week, naming Landon Tengwall the guard most likely to take a major leap in 2022.
Tengwall clocks in at 6-6, 330 pounds with roughly a 32-inch reach as a redshirt freshman. His physical presence, combined with outstanding movement skills, have put him high on the radar for NFL scouts already.
The Penn State redshirt freshman hails from Annapolis, Maryland, where he attended Our Lady of Good Counsel. He was heavily recruited by Power Five programs and was a four-star prospect. In the 2021 signing class, he was No. 72 in the nation, according to the On3 Consensus, and the No. 10 tackle prospect.
Tengwall played in three games for the Nittany Lions in 2021 and was one of 10 freshmen to hit the field in their first year. Heading into the 2022 season, he's projected to start at left guard, ahead of JB Nelson.
Offensive line is a big question mark for Penn State
Franklin seemed pleased with the progress his offensive line has made this spring — highlighting the development of tackle Olu Fashanu and touting the return of the previously injured RG Sal Wormley as big factors.
Penn State's offensive line is one of the pressure points that could determine whether the Nittany Lions have a positive season come the fall.
A failure to address last season's shortcomings could keep Penn State's offensive potential firmly capped.
"Offensive line, you know, who's going to replace the guys that left?" Franklin said. "And can we take a step where you guys ask about the offensive line, I say something, and then we back it up?
"I was pleased with the work that we were able to get done. We got great film," Franklin added after spring practices. "And, the O-linemen that are going are getting great work and their attitudes have been good. So that's been positive."
Odds to win the Big Ten Conference in 2022
It has been a hectic offseason across the entirety of college football, and that is especially true inside the Big Ten. As the start of the 2022 regular season inches closer, Las Vegas has released odds to win the Big Ten next year. According to Barrett Sallee of CBS Sports, the Ohio State Buckeyes come in as an extremely heavy favorite to win the crown next season.
Ohio State 1/2
Wisconsin 10/1
Michigan 11/1
Penn State 12/1
Nebraska 14/1
Iowa 20/1
Michigan State 25/1
Purdue 25/1
Minnesota 28/1
Indiana 33/1
Illinois 100/1
Maryland 100/1
Northwestern 150/1
Rutgers 200/1
On3's Chandler Vessels contributed to this report.