Sean Clifford elaborates on discussions with Big Ten commissioner about student-athlete benefits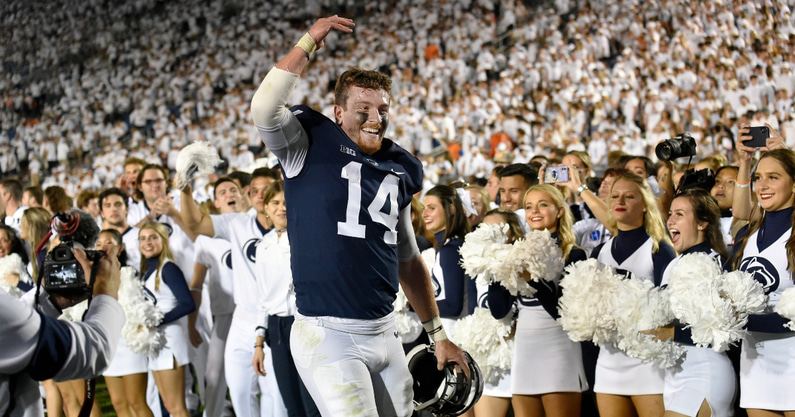 It was reported that, following a meeting with Big Ten commissioner Kevin Warren, Sean Clifford was leading a unionization movement among student-athletes. That wasn't accurate. The College Football Players Association (CFPA) isn't a union and was not acting as a union or negotiating when it met with Warren.
Sean Clifford, who is a part of the CFPA clarified his position, saying, "It is important to state that my dialogues with my coach, athletic director, and commissioner were conducted as a student-athlete. To characterize my dialogues as being on behalf of a union or as a union member would be inaccurate."
Ultimately, Kevin Warren decided to disinvite the CFPA to Big Ten Media Days. The idea was that the group would overshadow the rest of media days. Still, Sean Clifford came to media days, representing Penn State. There, he was asked about CFPA.
"It's all about football, right now," Sean Clifford said. "We're leading right up into camp. Camp is Sunday for us. That's the main focus. It's the only focus."
CLICK HERE to subscribe for FREE to the On3 YouTube channel
"But, to say that I wanna make a difference for college athletes moving forward–of course. It's not about me. That's really the main focus here. It's not about myself. It's not about us. It's about everybody, and to be in a conference with a commissioner that's so open to change and to talking, with a coach and an AD that's so willing to have those conversations, it's just a blessing to be in that situation."
"But, again, it's just one of those things, right now, we're a week away from camp and that's the main thing," Sean Clifford reiterated. "So, keeping the main thing is the main thing, but I'm proud of all the conversations that we've had."
About the CFPA
The College Football Players Association, which Penn State and Sean Clifford have been linked to, has been misidentified as a union. It's not. The conversation with Kevin Warren involved a few things that the CFPA wanted for the future. Among the things they're looking for are health and safety protections and revenue sharing.
"I'm very, very proud of the relationships that we have with our players at Penn State," said James Franklin. "It's something that I truly believe in, having these open discussions and dialogue with your players is important."