Sean Clifford opens up on how he battled through injuries in 2021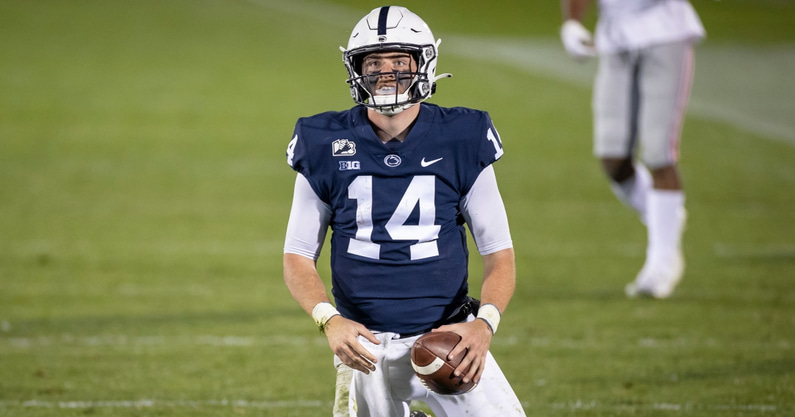 Penn State is coming off back-to-back disappointing seasons. Whether it's fair or not, people look for someone to blame when that happens and that often falls on the quarterback's shoulders. In Penn State's case, that means Sean Clifford has been heavily criticized.
Through all of that, Sean Clifford has put up good, not great, numbers for the Nittany Lions. In 2021, he did so while playing through injuries that he has finally opened up about battling.
"So, I had an injury against Iowa," Sean Clifford explained. "It was brutal. I mean, we were having a great game and I just wish I could have finished it off strong with my team. Had an injury that put me out to the rib area, and it definitely set me back. We had a bye week after that, but, you know, it's tough as a quarterback when you're dealing with an injury like that to come back strong. It was really hard. I fought through a lot of pain to get through a couple of those games."
"But, that's the name of the game. Availability is the best ability, you know that. It's one of those things where it's just taking care of your body, day-in day-out. Eating right. Making sure you're giving everything you got. Especially for me, in my last season, there's nothing I want more than to be successful for this team."
Sean Clifford returns to Penn State for a sixth season in 2021, taking advantage of an extra season of eligibility due to the COVID-19 Pandemic. He hopes to lead the Nittany Lions to a more successful season than they've had in the past couple of years.
Sean Clifford made offseason headlines
Sean Clifford made offseason headlines when he was attached to the College Football Players Association, which was incorrectly labeled a union. The group met with Big Ten Commissioner Kevin Warren to discuss new benefits for student-athletes. He would go on to clarify his position.
"It is important to state that my dialogues with my coach, athletic director, and commissioner were conducted as a student-athlete," said Sean Clifford. "To characterize my dialogues as being on behalf of a union or as a union member would be inaccurate."
"But, to say that I wanna make a difference for college athletes moving forward–of course. It's not about me. That's really the main focus here. It's not about myself. It's not about us. It's about everybody, and to be in a conference with a commissioner that's so open to change and to talking, with a coach and an AD that's so willing to have those conversations, it's just a blessing to be in that situation," Sean Clifford said.