Top-100 recruit Tomarrion Parker commits to Penn State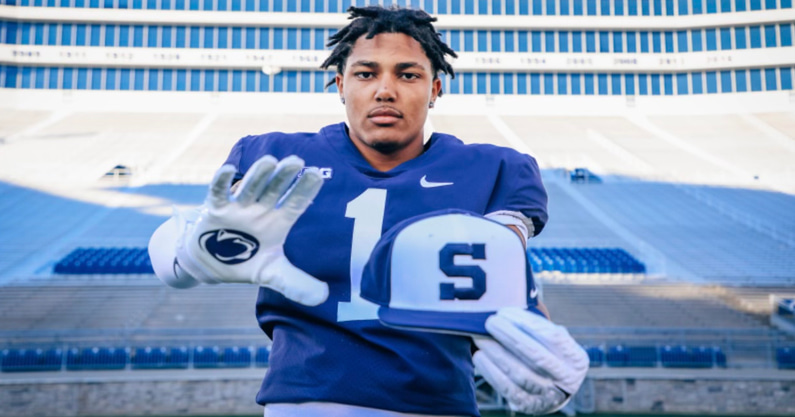 Phenix City (Ala.) Central four-star EDGE Tomarrion Parker had never been to Penn State before this weekend.
It was well worth the wait.
Less than a week after first stepping foot in Happy Valley, Parker has announced his commitment to the Nittany Lions.
"The coaching staff in general was just perfect for me and my family," Parker said. "They stayed around all the time, they talked, they laughed. They kept it real with me on how things are gonna go, how they gonna use and things like that, which I loved."
The No. 71 overall recruit in the 2023 On300 said he FaceTimed head coach James Franklin soon after he left to let him know of his choice.
"They were excited," Parker said. "They were jumping up and down screaming. … The coaches really showed me love since the day they offered me. They were very transparent to me about everything, and I love that."
Penn State was the whole package for Tomarrion Parker
One the things that appealed to Parker was Penn State's academics and alumni network. He did not know the extensive nature of the alumni network before visiting and he came away really impressed.
"They definitely put an emphasis more on life after football," Parker said. "I know every school tries to preach about life after football, but they really went into detail and they backed it up very well on what a Penn State degree really is."
He also fell in love with the campus and State College, Pa. He called it a true college town but with a lot to do.
"The atmosphere at Penn State is surreal," he added. "The people brought me in and took care of me. Penn State is like its own town, and the fans definitely show you love."
And for a recruit from the south, he is not afraid of the cold weather.
"When I went up there on Penn State's campus, it was like a movie," Parker said. "It looks good. They got some beautiful buildings. The weather is perfect. Up there it gets cold, I love the cold. I don't no problem playing in the cold."
Penn State beat Florida, Michigan State, Tennessee and others for Parker.