James Franklin reveals areas he'd like to see freshman QB Drew Allar improve on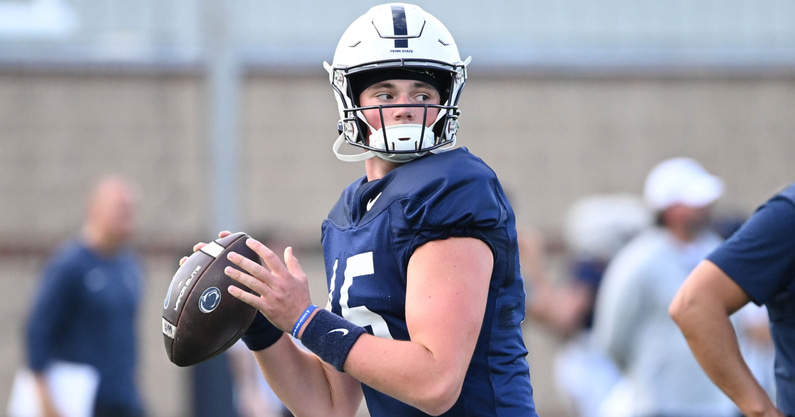 There's nobody more loved in college football than a backup, true freshman quarterback. Especially when having a ton of hype coming out of high school, fans are always wanting to know about their development. For Penn State, it's Drew Allar, who has gotten a ton of playing time three games into the season.
When head coach James Franklin was asked where Allar needs to improve at this point in the season, he explained how he wasn't comfortable answering that question. If the true freshman does get into another game, Franklin is not interested in giving his opponents a leg up.
CLICK HERE to subscribe for FREE to the On3 YouTube channel
"It's a good question and a fair question," Franklin said. "It's not a question I am comfortable talking about because if I bring those things up and he goes in the game — if I am the team we're playing, I am going to do those things."
CLICK HERE to subscribe to the On3 YouTube channel today for all of the latest news on college football, recruiting, NIL, and more!
Reps are important for Drew Allar
However, Franklin did dive into what's important for Allar as his freshman season continues. Franklin wants the quarterback to get both practice and game reps. Experience can be crucial for young players and Allar has gotten that thus far with Penn State.
"Obviously, a lot of it is a rep thing with him," said Franklin. "He needs to gain as much experience as possible. It's fairly unusual that we're at this situation. — especially with the type of schedule we have played — that he's been able to play in every game. So there's a ton of value from that.
"But more than anything, it's just practice reps and game reps and then experience. Specifics, at this stage, I'm not comfortable. I'm more than happy to follow up with you after the season and going into spring ball what he needs to work on."
The On3 Consensus, a complete and equally weighted industry-generated average that utilizes all four major recruiting services, ranked Allar as a five-star prospect coming out of high school. He was the No. 3 quarterback in the 2022 class and No. 28 on the national stage.
Allar has gotten important reps against the likes of Auburn and Purdue early in the season. While Sean Clifford is the starter this season, those experiences will help the freshman when he's eventually Penn State's guy.