Urban Meyer says there is an 'enormous amount of pressure' on Penn State in 2023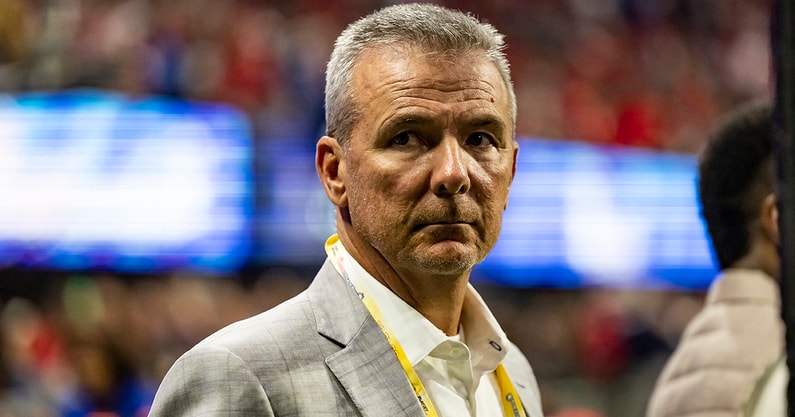 Last year, Nick Singleton burst onto the scene as a star freshman at Penn State and Drew Allar waited in the wings to take over for Sean Clifford at quarterback. It's now their time — and expectations are high in Happy Valley.
The Nittany Lions could find themselves toward the top of the Big Ten preseason poll as James Franklin enters his ninth year as head coach. Penn State has only finished higher than third place in the Big Ten East twice during his tenure — in 2016, when the Nittany Lions won the conference title, and 2017. This year could be an opportunity to make a run, according to Urban Meyer, the coach Franklin beat to win that 2016 championship.
In fact, Meyer told On3's J.D. PicKell said the pressure is on.
"I think it's an enormous amount of pressure," Meyer said on The Hard Count. "… In '16, they had a great year. They beat us. They have to beat the Wolverines, they have to beat the Buckeyes. I'll tell you what, they're loaded. They have two running backs that are elite. That quarterback that's going to take over is tremendous. We got to do several of his games.
"James Franklin has done a really good job. But he's got to close the deal and, unfortunately, they've got to go to The Horseshoe this year. It's a tough place to play."
Penn State brings plenty of young talent into 2023
Allar spent the 2022 season largely behind the veteran Clifford, but still saw his share of game action. In 10 games, Allar threw for 344 yards and four touchdowns while also rushing for a touchdown on the ground. Now, the former five-star recruit is getting ready to take the reins at Penn State — and he'll have some impressive talent behind him in the backfield with him.
The 2022 Big Ten Freshman of the Year, Singleton put up some monster numbers to put himself in position to follow the line of impressive Penn State running backs. He totaled 1,061 rushing yards and 12 touchdowns to lead the rushing attack, but he's not the only talented rusher the Nittany Lions have. Kaytron Allen also put together a strong freshman campaign with 847 rushing yards and 10 touchdowns in addition to his 188 receiving yards.
To Meyer's point, Penn State is bringing plenty of talent into 2023. The Nittany Lions' spring game is set for April 15 and the regular season is set to begin Sept. 2 against West Virginia.