White Out game at Penn State to attract list of top recruits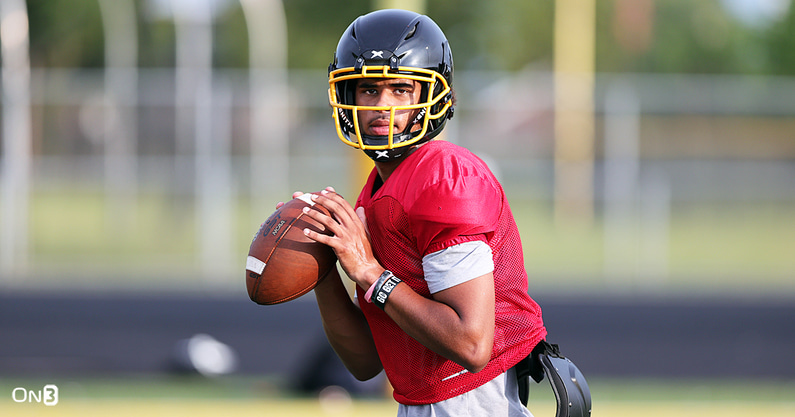 Penn State's White Out game – dubbed by Sports Illustrated as "perhaps the single greatest atmosphere in American sports" – has always been a big recruiting lure for the Nittany Lions.
The same is true with the 2021 version, too.
With 110,000 fans decked out in white for Penn State's game against Auburn, the Nittany Lions will have a long list of top targets and commitments in the stands soaking up the frenzied environment. Nittanyville is already rocking, and it's a massive opportunity for Penn State to make a big impression with recruits.
Nittany Lions expect to host 4 official visitors
Penn State expects to host at least four official visitors for the White Out game, including On300 safety Larry Turner-Gooden of Mission Hills (Calif.) Bishop Alemany.
Turner-Gooden is an Arizona State commitment, but he's been vocal about looking at programs like USC and Penn State. With the movement at USC, the door could be open for the Nittany Lions to make a move.
The other big-name target scheduled to be on an official visit is consensus four-star LB recruit Jaishawn Barham. South Carolina, Florida and Maryland are heavily involved, too. But the official visit is big for the Nittany Lions.
Consensus three-star receiver Omari Evans of Killeen (Texas) Shoemaker is also making an official visit. The 6-foot, 170-pound Evans visited Rutgers earlier in September and hopes to decide between the Scarlett Knights, Nittany Lions and other teams like Vanderbilt, Arkansas and Boston College at the end of the month.
Penn State consensus three-star defensive back commitment Jordan Allen out of Lafayette (La.) Christian Academy is making an official visit. Allen committed earlier in the summer and claimed more than 40 offers before his decision.
All about the future for Penn State
With Penn State's class 2022 class already almost full, the White Out weekend will be more about impressing underclass targets. More than 20 players with offers from Penn State in the 2023 class will be at the game.
The biggest name in the bunch is five-star EDGE Nyckoles Harbor of Washington (D.C.) Archbishop Carroll. The 6-5, 225-pound Harbor already has more than offers and lists Penn State in a top group along with Maryland, Michigan, Oklahoma, Oregon and South Carolina.
Then there are the two junior quarterback targets – Dante Moore of Detroit Martin Luther King and Jaden Rashada of Pittsburg, Calif. Both have Penn State offers, and both say they're fired up about the trip.
The other highly ranked prospects scheduled for the unofficial visit are On3 Top 100 WR Noah Rogers of Rolesville, N.C., top 100 DL Jason Moore of Hyattsville (Md.) DeMatha Catholic and top 100 OL Luke Montgomery of Findlay, Ohio. But that's just the tip of the iceberg of top 2023 and 2024 recruits expected in Happy Valley.
One maybe visitor for Penn State, one not coming
As of Thursday morning, Penn State is still trying to see if it can get On300 receiver Andre Greene Jr. of Richmond (Va.) St. Christopher's School on campus for an official visit.
Green has already taken official visits to Georgia, North Carolina and Oregon. Greene has a game at St. Albans School in Washington, D.C., at 2 p.m. In theory, there would be enough time to make the 3 ½ drive to State College after his high school game.
One name that won't be on the list is On300 EDGE DJ Wesolak of Boonville, Mo. The visit was something that had been on the schedule for quite some time. But there seems to have been some movement by both Penn State and Wesolak away from each other.
One insider at Wesolak's high school told On3 they would be shocked if he ever makes it to campus. Keep in mind, Penn State doesn't have a lot of room left in this class. The Lions already have 24 players committed.
Tyreese Fearbry scheduled for unofficial
Pittsburgh Perry Traditional Academy four-star EDGE Tyreese Fearbry is going to be at the game on an unofficial visit. He has already taken an official visit to Happy Valley on June 18. Fearbry has also officially visited Auburn, Kentucky and Pittsburgh. A lot of projections have been entered for Pittsburgh. So, this weekend could be a good opportunity for the Nittany Lions to swing the momentum their way.