4-star twin big men Guillermo and Jorge Diaz commit to Pittsburgh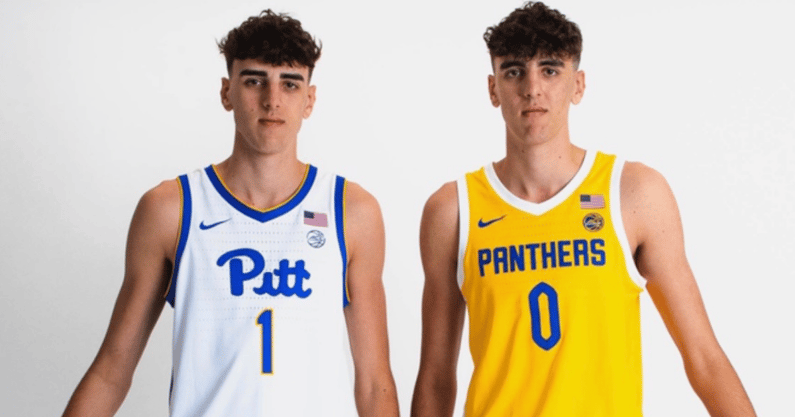 Jeff Capel and Pittsburgh have landed commitments from twin brothers Guillermo and Jorge Diaz.
Originally from the Spanish Canary Islands, the two brothers came to the United States less than a year ago to play a year of prep basketball. The Diaz's landed in Bradenton, Florida, playing for IMG Academy's academic team.
Both brothers turned down professional contracts overseas to play collegiately.
Guillermo is a 7-foot power forward, who ranks 89th nationally in the class of 2022 according to On3. Jorge is a 6-foot-11 power forward, ranked 76th by On3.
To go along with Pittsburgh, the two shared common offers from Fordham, Maryland, Georgia Tech, and more.
The Diaz twins break down their commitment
Guillermo and Jorge Diaz discussed their commitment to Pittsburgh with On3's Jamie Shaw.
---
What was it about the Pittsburgh program that initially stood out for you?
In general, everything was great; facilities, academics, the people, the city. We really like it there. Our family and us had a great feeling. 
How important was it for you to play together?
It wasn't that important for us but of course is a good thing to go together. I think it will make things easier for us.
What was your favorite part of the visit? What did you think of the city? The campus?
I think our favorite part there was the people and we loved the city and the campus.
How do you fit into their style of play? 
They are in need of shooters and skilled forwards and I think we can provide that.
Guillermo, what can Pitt fans expect from Jorge?
They can expect a 7-footer making it rain from the three-point line. I think Pitts fans are going to love him.
Jorge, what can Pitt fans expect from Guillermo? 
I think they gonna enjoy watching a beautiful basketball.
Jim Carr, the Diaz's high school coach at IMG Academy, gave his thoughts on the twins' commitment.
"I think Tim (O'Toole) and Jeff (Capel) did a great job. They have seen them more than any other program and never blinked in their belief and efforts. A lot of good people and programs recruited these guys but I think I'm the end the sincere volume of work created a sincere connection."
Scouting Report
"Jorge is a smooth shooting forward who, at 6-11, could be a wing long-term. He can create his own shot in the half-court, using a crafty and decisive dribble. The jump shot is pure, both off the bounce or the stand-still. Jorge moves fluidly in space, has wiggle, and can move his feet. Currently No. 143 in the rankings, he will be in line for a significant bump in the next update.
"Guillermo is a touch taller than Jorge at 7-0. He plays mainly in the mid and high post; however, he can step out and confidently knock down a catch and shoot three. Guillermo is an excellent passer; a team can run offense through him from various areas on the floor. In five starts with the Spanish u18 national team this summer, Guillermo averaged 11 points, 5.6 rebounds, and 3.0 blocks per game." – Jamie Shaw, On3's National Recruiting Analyst