Four-star safety Jalon Kilgore finds 'home' in South Carolina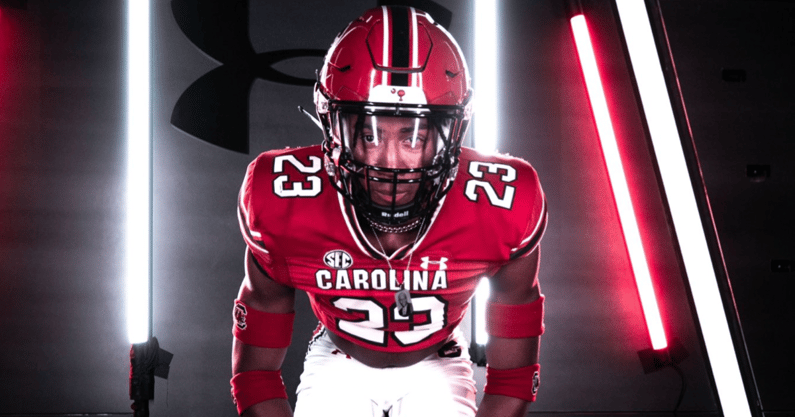 Eatonton (Ga.) Putnam County four-star safety Jalon Kilgore felt the home feeling with South Carolina. Kilgore made his decision on the car ride from Columbia this weekend. He had seen enough.
Kilgore had originally planned on committing in August just before his senior season began.
He took an official visit with his family to visit South Carolina. The No. 371 overall prospect in the On3 Consensus rankings for the class of 2023 and his family sent up a few prayers before he made up his mind.
"I've been there a couple of times and it was just the home feeling I got," Kilgore told On3. "I prayed about it with me and my family. Talking with coach (Shane) Beamer was great. We talked about they could use me as a big aspect of the team. They're definitely coming up in the SEC as one of the bigger programs. That's one of the things that helped bring me over."
The Gamecocks added three commitments on Sunday following the official visit. Kilgore could feel the energy being brought by the South Carolina staff throughout the weekend.
They made an effort to make everyone feel at home amongst the current Gamecock players.
"It was great," Kilgore said. "I believe it was just that home feeling that they gave and the family motive that they were pushing. A lot of players were saying that the coaches were recruiting them hard and then talking with them, everyone knew it was the place for them."
Jalon Kilgore is excited about promising secondary
Two of the other commits over the weekend were also defensive backs. Cameron Upshaw is a safety. Four-star Kelton Henderson is listed as an athlete and can play in the defensive backfield as well.
Kilgore feels the group starting to assemble could be a special group.
"They're building a good strong defensive program," Kilgore said. "They've got some strong defensive backs currently there like Cam Smith and Darius Rush. They're definitely building a great program. With the safeties and cornerbacks coming in, it's going to be even better."