GG Jackson makes college debut for South Carolina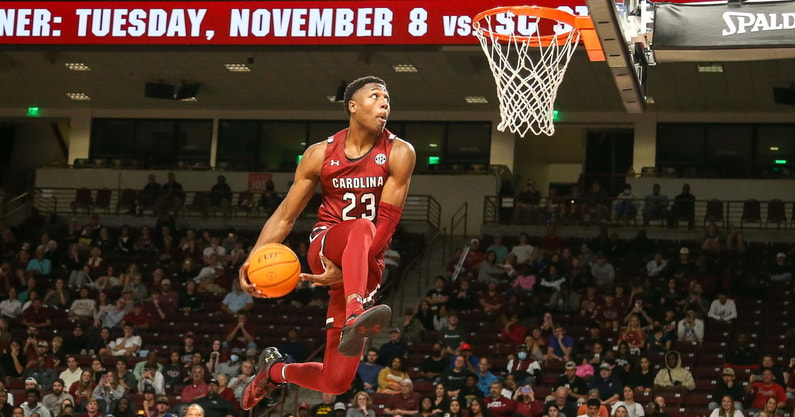 South Carolina freshman GG Jackson made his collegiate debut last weekend as Charlotte traveled down to play the Gamecocks. This scrimmage was held behind closed doors with only team personnel in attendance.
This summer, Jackson made headlines as the first recruit to ever de-commit from North Carolina and commit to another college. He chose to stay close to home at South Carolina. Jackson became the highest-rated recruit the Gamecocks have landed in the past twenty-five-plus years.
Jackson played 28:41 in the scrimmage and finished with two points, four rebounds, one assist, and two blocks. He was 1-for-10 from the field and 0-for-5 from three.
Jackson, who is 17 years old, decided to re-classify into the 2022 class and attend college a year early. The five-star will turn 18 on December 17. Most NBA Draft experts have GG Jackson slated to go in the first round of the 2023 NBA Draft, with many predicting him to be a lottery pick heading into the season.
Ohio State transfer Meechie Johnson led all scorers with 20 points on 8-of-16 shooting with six assists. Senior guard Chico Carter, a holdover from last year's team, finished with 16 points on 2-of-6 shooting from three.
For Charlotte, Sophomore Lu'Cye Patterson led the way with 15 points, going 11-of-12 from the free throw line. Sophomore center Aly Khalifa added 12 points, nine rebounds, and six assists.
Charlotte won the closed-door scrimmage 61-54.
South Carolina will kick-start their regular season on November 8 against South Carolina State.
Charlotte will play their first regular season game on November 7 against Coppin State.