Lamont Paris says getting to free throw line was a point of emphasis against Auburn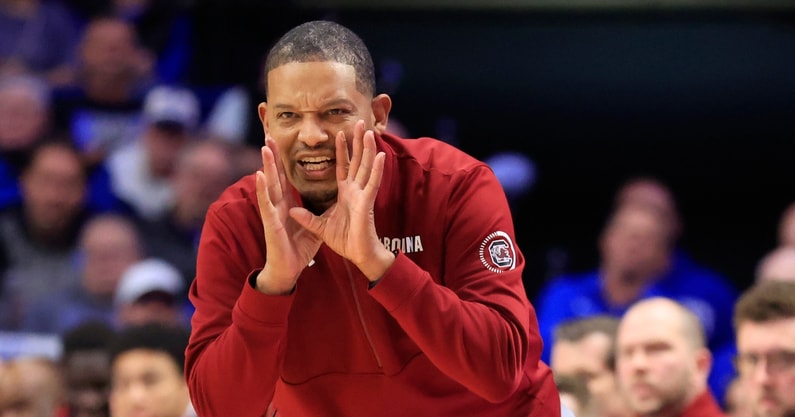 Lamont Paris changed some things up on Saturday, making it a point of emphasis for South Carolina against Auburn to get to the free throw line more often.
While it didn't amount to a victory, the Gamecocks shot 19-24 at the line, and will be looking to improve upon that as the season progresses.
"It has been for most of the year, I think if that's one of the options that you're eliminating from your offensive package, is attacking off the dribble and getting to the free throw line, well you better have a lot of plays that are going to get wide-open shots," started Paris. "If you're not going to be able to do that. Or if feeding the post and scoring around the basket. We haven't performed in that area either. So now, if you don't score around the basket in post-feed situations. You don't attack the rim off the dribble very consistently, or generate points from the free throw line. Well now, you are relegated to being a jump-shooting team. While we're doing that, in any particular time, one guy out there doesn't shoot jump-shots at all. Sometimes more than that. So that's a tough road.
"It was a point of emphasis. I want to continue working on it. I want to continue to do it. I don't want to back off because we had a couple offensive fouls."
It didn't yield results on Saturday, but perhaps Lamont Paris' new strategy will help South Carolina find some more victories later in the season.
Lamont Paris explains going with small lineup to start Auburn game
Lamont Paris and South Carolina tried to catch Auburn slipping with a smaller lineup to start their showdown on Saturday, but nothing went the Gamecocks way.
It all amounted to a 81-66 loss for the Gamecocks at home. Now 8-11 and 1-5 against the SEC, it's a less than ideal start for Paris and company. Regardless, the South Carolina leader spoke about his decision to switch things up afterwards, even if it didn't bring the results he had hoped for.
"Honestly one of the first times that they threw it to him, Hayden [Brown] did a good job in the post and we ended up getting a turnover. It wasn't just that Hayden got in foul trouble again. One was an offensive foul. That was part of it, that dictated us making a change," stated Paris. "I knew we were going to do — we were going to play big also. But I did want to start — I thought, from an offensive standpoint, that might allow us to do somethings, having a smaller lineup. It did maybe make us switch one through five. We had some advantages I thought at times. Hayden's offensive foul that I spoke of, they had switched and it was a guard on him and he put his head down trying to get to the rim. The guy took a charge on him. Versus maybe moving the ball, diving to the basket and taking advantage of your size advantage around the basket. But he was trying to be aggressive, that's for sure. 
"But I think it came down too, we did want to start that way, to try to open some things up offensively. They countered that with switching a lot of things, and then we weren't as aggressive and we weren't as smart with our aggression to take advantage of some of those things early."