LOOK: Dawn Staley makes fashion statement during Women's National Championship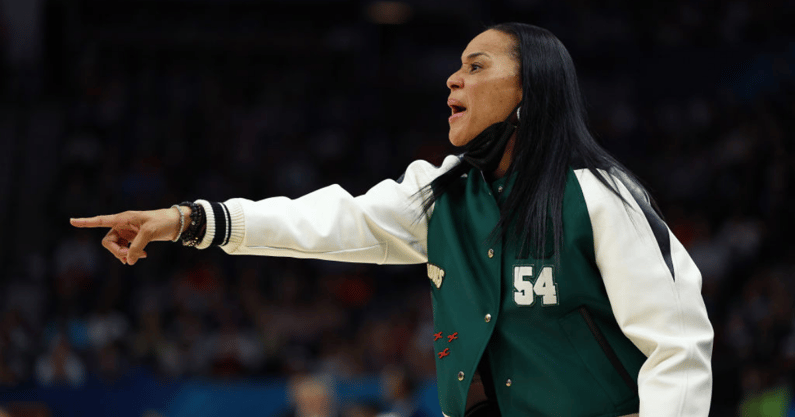 South Carolina women's basketball coach Dawn Staley has become as well known for her fashion on the sideline as her coaching on the floor, regularly sporting iconic looks which draw media attention. However, she might have saved her best for last this season with a Louis Vuitton jacket and matching shoes on Sunday night.
The varsity jacket worn by Dawn Staley on the sideline for South Carolina's national championship game against UConn costs $4,850 from the Louis Vuitton website and matches the shoes which she chose to pair.
While her outfit will draw headlines, her coaching and her team deserve most of the attention for a dominant season. Led by National Player of the Year Aliyah Boston, the Gamecocks claimed their first second national championship in school history.
Dawn Staley confident ahead of National Championship
As South Carolina prepared to face UConn in the NCAA Women's Championship Game, head coach Dawn Staley believed they were just as dominant of a team. When asked about the Huskies' perfect 11-0 record in championship games, Staley responded by mentioning South Carolina's own undefeated record of 1-0. The Gamecocks won a national title in 2017 after beating Mississippi State in their fourth-straight season winning the SEC title.
There is no question that UConn and their coach Geno Auriemma have been known as the standard to beat in college basketball for decades, but Staley is no stranger to the biggest stage either. Despite still playing high school basketball when Auriemma began his coaching career, Staley has done plenty in her run as head coach of the Gamecocks. Since being named head coach in 2008, Staley has led South Carolina to a 366–105 record and 10 NCAA Tournament appearances.
The Gamecocks won their sixth SEC title under Staley this season, and now have two NCAA National Championships in two attempts. The fact that UConn has done it 11 times before — and won them all entering the night — did not seem to affect Staley's confidence in her team at all.