Shane Beamer details his message to his team entering fourth quarters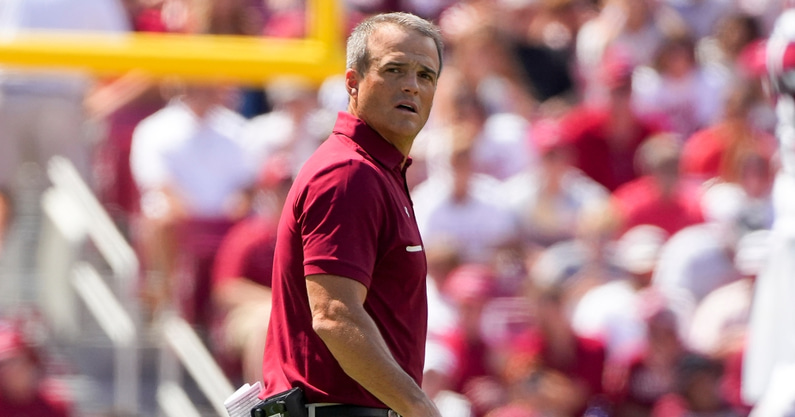 Through three games this year, South Carolina is outscoring opponents 28-26 in the fourth quarter. That's by design, according to Shane Beamer.
Beamer said part of the game plan is to win the fourth quarter and try to finish games strong. That was apparent last week against Georgia. Although the Bulldogs had a huge lead over the Gamecocks, Beamer was in the middle of the huddle and got his players ready to come out firing in the fourth quarter of the 48-7 game. South Carolina proceeded to score its lone touchdown of the game.
Beamer said that mentality started in the heat of last season and it carried over into this year.
CLICK HERE to subscribe for FREE to the On3 YouTube channel
"We do that every fourth quarter," Beamer said. "I think we started doing that, I want to say mid-way through the season last year. One of our things that we talk about in winning football games is dominating the fourth quarter and every Sunday, when we come in that team meeting room and review the game from the day before, there's things that we look at … and one of those is did we win the fourth quarter? We started doing that about midway through last season and the message in that situation was, 'Yeah, we're going to find out a lot about this team right now. This game has not gone the way that we wanted it to go. But we don't ever look at the scoreboard, we don't play to whatever the score says.'
"We compete and don't worry about the scoreboard so that whoever we want back out there on the field in the fourth quarter, I wanted to see us compete like we did all last season. We had ups and downs last year, but I want to say we won the fourth quarter [eight] of 12 games, maybe. We just continue to get better and we don't worry about the score and we just keep playing, so that was the message in that huddle on Saturday afternoon."
Beamer and the Gamecocks will have another chance to dominate the fourth quarter this week against Charlotte Saturday at 7:30 p.m. ET.