Shane Beamer praises 'confident' South Carolina team after big win over Clemson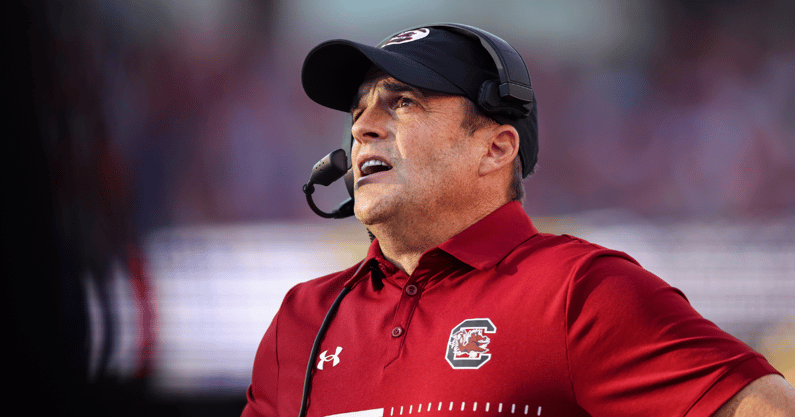 South Carolina finally ended the titanic Clemson home winning streak, beating the Tigers 31-30 as it was the fans in maroon who met at the paw this Saturday afternoon. And the Gamecocks certainly have their quarterback, Spencer Rattler, to thank. After a season's worth of ups and downs, Rattler exploded over the last two weeks to win a pair of top-10 games and knock two orange rivals out of the College Football Playoff discussion.
After the game, South Carolina head coach Shane Beamer spoke with sideline reporter Molly McGrath, praising Rattler above all.
"He's a hell of a player. So glad he's our quarterback," said Beamer, before crediting his team's approach. "How about the fight of our team, though? I mean, we just never flinched. That is a championship team that we just beat. I'm so happy for our players."
It's also a win Beamer knows his father, the legendary Frank Beamer, is extremely proud of.
"He's in the stands somewhere. I know he's proud. But what a win. You talk about all three phases. I'm just so happy for our fans, Molly. This has been a long time coming. I mean, you see the excitement of the fans. It's a great day for all Gamecocks."
Shane Beamer is tired of the narratives around South Carolina football. With these last two weeks, he and the program are launching themselves into a new era.
"We're just getting started. I feel like we're in our own College Football Playoff with the way we've played the last two weeks. I saw Jesse Palmer on TV last night. And I saw he said Clemson needs a big win to impress the committee. But we had a confident bunch and a hell of a football team coming in here. And I think the narrative was that we're a feel-good story. We got a good football team and we showed it."
Great win for Shane Beamer and the South Carolina football program.