Shane Beamer previews SEC spring meetings, which topics could play big role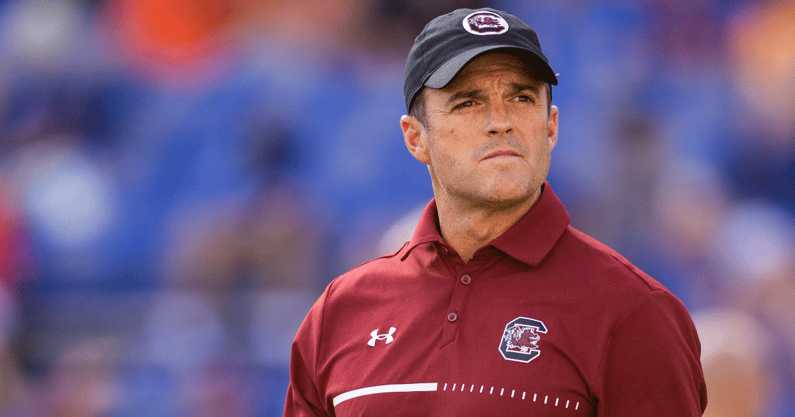 The 2023 SEC spring meetings are fast approaching and there will be no shortage of interesting topics for the league's coaches to discuss after an eventful offseason.
South Carolina coach Shane Beamer previewed some of the topics he expects will be discussed.
"I don't know. I mean I haven't seen an agenda," Beamer said recently on his Welcome Home Tour. "I'm guessing obviously transfer portal will be a topic of discussion. NIL will be a topic of discussion, I'm sure. Scheduling, obviously. There's usually a pretty in-depth conversation about new rules in college football and maybe things that are coming down the road that are up for discussion from a rules standpoint."
Those will be much milder topics than the ACC discussed at its spring meetings, with league members trying to figure out ways to ensure the growing revenue gap between their conference and others like the Big Ten and SEC doesn't cause the league to be left behind for good.
The SEC has no such concerns, already locked into a lucrative new TV deal and with Oklahoma and Texas set to join the conference in 2024.
But how the league breaks down the schedule going forward will be a major topic of conversation coming out of the SEC spring meetings. The league is debating between a couple scheduling formats, with an eight-game or nine-game conference schedule under consideration.
In either case, the conference is likely to break some of the traditional annual bonds between programs in order to ensure that the league's members face each other on a more regular basis. In the current format with eight league games and one permanent cross-division opponent, schools travel to the other opposite-division schools only once every 12 years.
That is something most in the conference want to change.
Giving fans a chance to more regularly visit other SEC venues is a target for the league's scheduling, one reason the expansion to nine conference games and loosening the number of annual rivalries is on the table.
Beamer expects that and other things to come up at the SEC spring meetings, which he described as quite efficient and productive.
"There's not a lot of wasted moment," Beamer said. "There's an agenda and it's one thing to the next. But it's a great time to get around other coaches in this league and administrators and kind of come together as a conference."
The 2023 SEC spring meetings are set to begin next week in Destin, Fla.