Shane Beamer sends strong message to Spencer Rattler after multiple first-half turnovers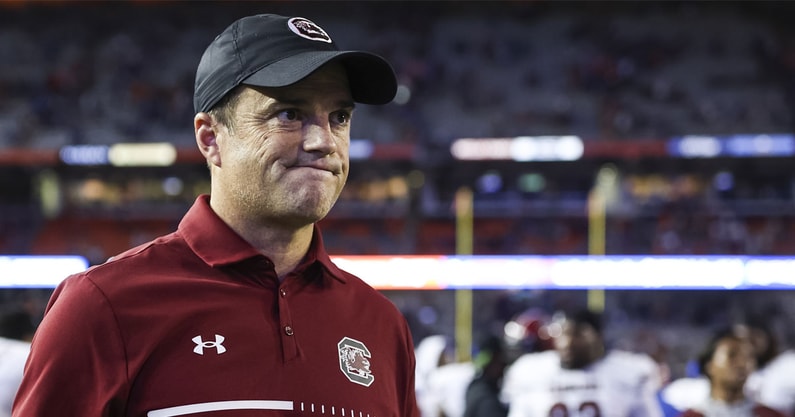 Clemson is enjoying a 23-14 lead over South Carolina at the break thanks to a pair of Spencer Rattler interceptions in the first half. Gamecocks head coach Shane Beamer sent an encouraging message to his star quarterback before heading to the locker room.
"If we're gonna win this game, we're gonna win this game because of him," Beamer said. "He played his butt off last week and he can again this week. Two critical turnovers that just gifted them points. The first quarter was ugly, but we kept battling. We're in the game, and we're gonna win the game because of him in the second half."
Other than the two interceptions – one of which was a pick-six on the game's opening drive – Rattler has been the star of the show for Carolina. Completing 12-of-23 passing for 207 yards and a touchdown is a stellar half for any quarterback, and is keeping the Gamecocks in the game despite only amassing 20 rushing yards in the first half.
CLICK HERE to subscribe for FREE to the On3 YouTube channel
If Rattler can correct him mistakes and keep the ball away from the explosive Clemson offense, Carolina can pull off a massive upset for the second week in a row.
Josh Vann goes down with serious leg injury vs Clemson
The Palmetto Bowl could not have started out worse for the South Carolina Gamecocks. Clemson was the first team on the board, picking off QB Spencer Rattler for a pick-six. A few possessions later, they doubled the lead to 14-0 with another score. 
Then, on the next Gamecock possession, Rattler completed his best pass of the day, a 34-yard strike to star wideout Josh Vann. However, when coming down with the ball, Vann hit the grass stiffly, with both his legs jerking straight before he tumbled out of bounds. It looked like a very bad injury. 
Vann was eventually helped off by a number of South Carolina staffers and taken to the locker room. A few minutes later, ABC sideline reporter Molly McGrath had an update on Vann, noting it is a left leg injury for the wide receiver. 
"Josh Vann had to be helped off the field, he couldn't put any weight on his left leg. They brought ice into the medical tent, and I'm told that he's undergoing further evaluation for a left knee sprain. He's questionable to return."