Shane Beamer shares update on mayo usage following Duke's Mayo Bowl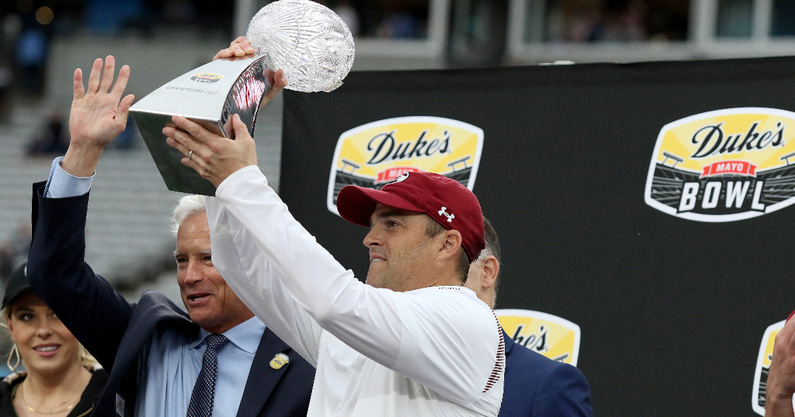 South Carolina head coach Shane Beamer is still shaken by his mayo bath after the Duke's Mayo Bowl. Beamer told the media that he hasn't had the beloved condiment since the messy incident.
"No, I thought long and hard about it last Sunday," Beamer said. "I was going to go to the 5th Avenue Deli, they've got the Ray Tanner, I think that's one of the sandwiches there.
"I was going to go last Sunday and I think they put mayonnaise on that sandwich. Going back and forth, 'Do I really want to do that?' They made it easy for me because it was closed on Sunday. I have not had mayo since the bath."
Though he was extremely pleased to win the bowl game to get to 7-6 on the year, the Gamecocks headman did not enjoy having 4.5 gallons of mayo dumped on his head.
Beamer addresses South Carolina's potential
Shane Beamer went from head-scratching hire by some pundits to one of the SEC's best success stories this season.
The Gamecocks had serious depth concerns this season but still, Beamer far exceeded South Carolina's over/under win total of 3.5. He managed to navigate the storm with the personnel he had, including grad assistant-turned-walk-on Zeb Noland.
"Stay patient," Beamer said on The Paul Finebaum Show, when asked what his message for South Carolina fans would be. "I believe there is no ceiling. We can accomplish everything we need to here. We have everything that we need here to be successful, but you also better understand that you play in the most competitive conference in the country."
South Carolina was one of the greatest beneficiaries of an ever-expanding pool of players in the NCAA Transfer Portal. Former five-star quarterback Spencer Rattler transferred to South Carolina. So too did former five-star tight end Austin Stogner, who worked under Beamer when he was the tight end coach at Oklahoma.
"People are getting excited because there have been some of those preseason polls that have come out that have us ranked in the top 25," Beamer said. "And I look at it and see that eight of our opponents are ranked in some of those preseason polls higher than us, so we know that we certainly did a lot of great things this past season.
"We're not happy with being 7-6, that's not the end goal, but it was a great start. But we also understand the amount of work that it took to win seven games, and it's going to take that much more to take the next step to the next level here at South Carolina."
On3's Simon Gibbs contributed to this report.