Shane Beamer talks about managing expectations after successful first year at South Carolina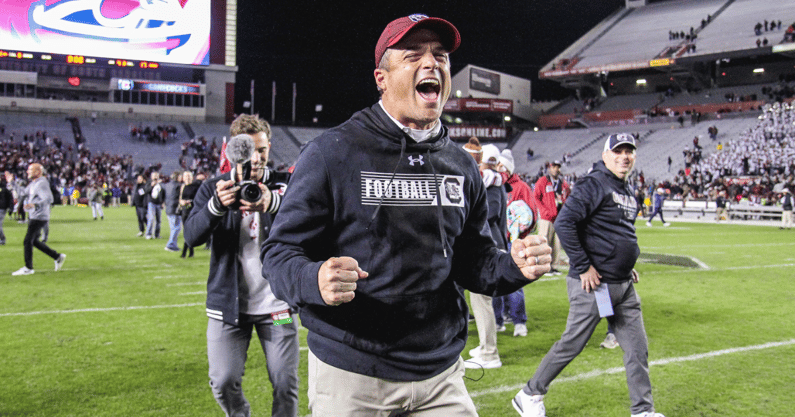 After the five year tenure of Will Muschamp in Columbia, Shane Beamer took over the Gamecock program last season. South Carolina had their best season since 2018 with a 7-6 record and a Duke's Mayo Bowl win.
With expectations rising heading into year two, Beamer says his team is prepared to meet them. Beamer joined a Twitter Spaces conversation hosted by RedditCFB where he said he knows what his program has the potential to be.
"I came to South Carolina not to just win seven games. It was a great start for us in year one but all of us in this program have higher expectations than winning seven," said Beamer. "I was here before where we played for an SEC Championship when I was an assistant coach in 2010. In that season, we beat Florida, Georgia, Alabama when they were No. 1 in the country, Tennessee, Clemson. I've seen what this program can be and we're working hard to get back to that level."
Managing those expectations will be key. While they expect to win more than last season, anything can happen through the course of the year. Beamer reminded everyone that his team was a couple plays away from a much better or much worse record. Although that's out of their control, he just wants his team to continue the work that led to their resurgent season.
"As the coach, we're really excited about what we did last season. There was a lot of work that went in to winning seven football games. (We're) just constantly emphasizing to our players that as much work that went into winning seven games, it's going to take that much more work to take the next step and get beyond seven," Beamer said. "Looking back at last season, things go a different way and we maybe win a couple more. We also had some wins where we won at the end of the game that could go either way as well."
That sentiment is especially true in the SEC. While Beamer reminisced on their previous success against the conference, that was nearly a decade ago. In the present, they went just 3-5 in conference play last season. With it being a constant arms race in SEC, Beamer says they can't congratulate themselves just yet heading into his second season at the helm.
"We play in the toughest conference in America and there's zero debating that. The teams around us? They're not exactly slowing down. They're only continuing to get better. We know the work that we have ahead of us but our guys have been great. I haven't seen any signs or have any kind of patting ourselves on the back. We realize what a thin line it is between winning and losing. We're trying to do everything in our power to make sure we're on the right side of that in as many games as we can this season."