Shane Beamer wants South Carolina to move on from monster win over Tennessee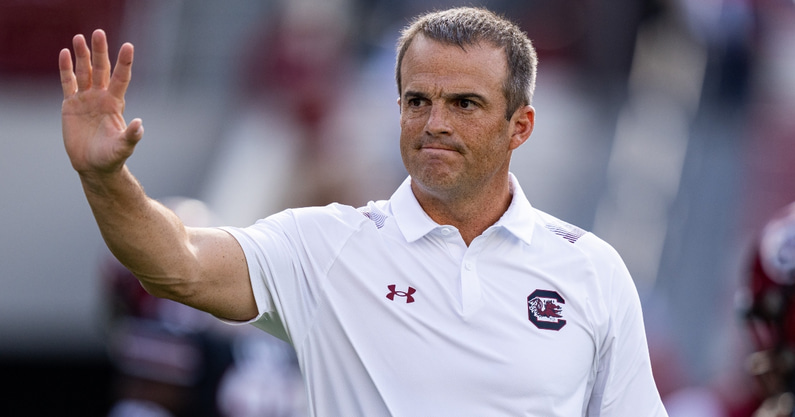 Shane Beamer had his fun last weekend, but he's moving on from South Carolina's huge victory over Tennessee.
There's no rest for the victors, as Clemson is on the docket next. The Tigers will make the Gamecocks pay if they're not careful, and the South Carolina leader knows that much for sure.
CLICK HERE to subscribe for FREE to the On3 YouTube channel
"Quit talking about it," Beamer stated, asked how he plans to tune out the noise. "Honestly, I love (South Carolina Associate Athletics Director for New and Creative Media) Justin King and what they do, but I told them no more Tennessee videos. You're amazing and brilliant at what you do, but I told them after the game on Saturday night, get it all out Sunday, Monday, because once the players come back in here on Tuesday it's full speed ahead to the next opponent. With the players, I told them after practice today, you know they went to class on Monday and everybody was patting them on the back, well the Tuesday classes are different. So they're seeing those classmates for the first time since Saturday. Everybody will be patting them on the back. Told them the same thing, politely thank them, but we're moving on.
"We didn't do a great job of that last year. We had an unbelievable home win against Auburn in 2021, and got bowl eligible. Played these guys seven days later, and obviously were not ready to perform like we needed to perform, and that's on me."
Regardless, Beamer is happy to see his team confident and excited going into another huge matchup.
"You know, our guys are excited. Our guys are certainly very confident. But we know — I told them today, there's a lot of reasons we played as well as we did on Saturday, but it started with our preparation during the week," explained Beamer. "So for us to have a chance to perform well on Saturday up there, we're going to have to prepare well during the week also. It's easier said than done, and I've told you guys before, we get four hours a day with them in here. They're out there the other twenty hours hearing how great they are, as well. Certainly we want to build on what we did last week, but it's just moving on and what we did last Saturday because even more special and bigger if we're fortunate enough to win on Saturday.
"Then we can talk back, and Justin can tweet out all kinds of videos from Saturday night, and hopefully this Saturday, as well. We're on probation right now. No more Tennessee tweeting."
If the Gamecocks can defeat Clemson as well, Shane Beamer will have secured their social team enough footage for a couple of months. Time will tell if South Carolina can keep their focus, but no one in their right mind should bet against Beamer and company after last weekend's performance.