WATCH: Spencer Rattler shows off arm strength at Manning Passing Academy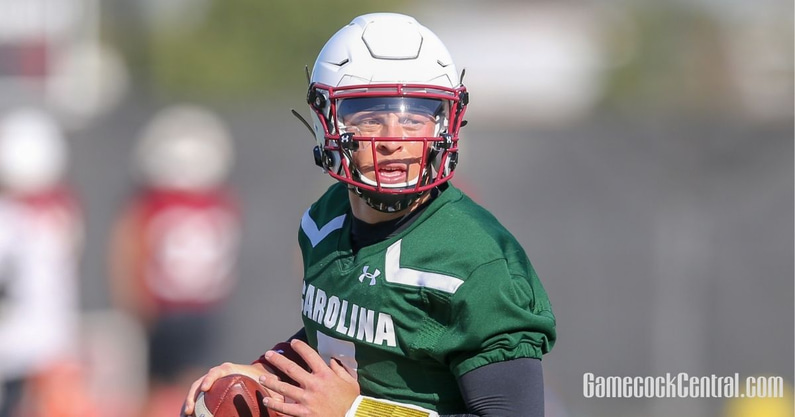 Spencer Rattler is one of the many elite quarterbacks at the Manning Passing Academy this weekend in Louisiana. The new South Carolina quarterback is looking to pick up a few things from former SEC quarterbacks, Eli and Peyton Manning, as he heads into the conference for the first time.
On Friday night, Rattler had the opportunity to show off his arm strength in front of a crowd. He dropped back before launching a pass down the field, possibly around the 25-yard line. The ball landed perfectly in the hands of the receiver near the opposite goal line.
While it may be a rep against air, it's still incredible to see the arm strength of Rattler. You can see the full clip from On3's Sam Spiegelman here.
A few states over on the east coast, there is excitement for Rattler to take the field this season. One of the glaring problems for head coach Shane Beamer last season was his quarterback play. Now, he has one of the top prospects in all of college football with Rattler. Friday's latest clip proves that even more.
Spencer Rattler sets goals for 2022 season with South Carolina
After leaving Oklahoma, Rattler became the No. 5-ranked transfer to hit the portal, according to the On3 Transfer Portal Rankings. He's now reuniting with former Sooners tight ends coach Shane Beamer and former Oklahoma tight end Austin Stogner — On3's No. 3-ranked tight end transfer this offseason.
After going through spring ball and as he now gets ready for training camp, Rattler appears to be settling in just fine in Columbia.
"The vibe is great," Rattler said. "I mean, the whole city is excited for us to play. The Gamecock fans are some of the most loyal, excited fans that I've seen so far. So the vibe is great. Coach Beamer's first year turned the program around. Seven-, eight-win season, we expect to do a lot better this year. But it's a start.
"I kind of like not having all the hype on us before the season because you've got to live up to so much. So being able to kind of sneak up on people, that's our goal. And just play as hard as we can and win games."