South Carolina guard Meechie Johnson withdraws from 2023 NBA Draft, will return to school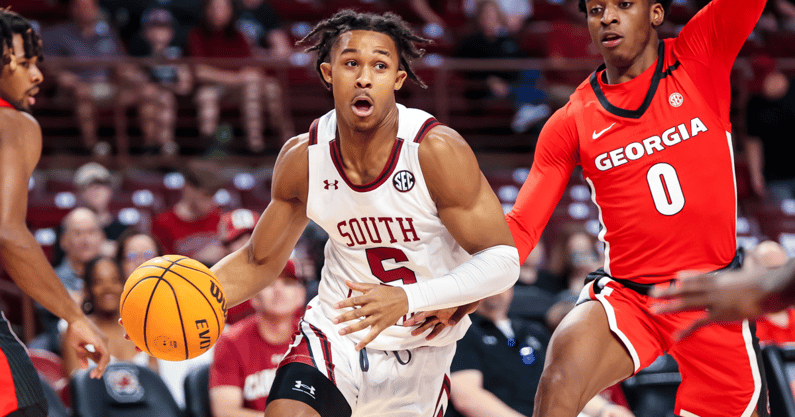 South Carolina guard Meechie Johnson will withdraw from the NBA Draft and return to school for the 2023-24 season, he announced on Twitter. Johnson started 29 of 30 games for the Gamecocks this past season after transferring in from Ohio State.
He finished second on the team with 12.7 points in addition to a team-high 3.7 assists per game. The move comes as no surprise after Johnson told Gamecock Central at the end of the regular season that he would be back for another year.
By entering his name in the NBA Draft, Johnson took advantage of the opportunity to get feedback from scouts. Now that he knows where he stands, he can focus on improving his draft stock in his second season at South Carolina.
Johnson's return is huge for the Gamecocks, which have already lost starters Hayden Brown and Chico Carter from last season. GG Jackson, a five-star freshman from last season, has also entered his name in the 2023 NBA Draft and is a projected top-15 selection.
More on the 2023 NBA Draft
The 2023 NBA Draft is set to take place on Thursday, June 22, 2023, in Brooklyn at Barclays Center. Round 1 of the draft will be announced by NBA Commissioner Adam Silver, while Deputy Commissioner Mark Tatum is expected to handle the second round of picks.
To be eligible for the NBA Draft, players must be at least 19 years in age during the calendar year that the draft is held and at least one NBA season from their high school graduation date, or the date that would have been if they are not graduated. It is not required that player spend that one year playing college basketball, though. Players can play in either college, abroad, or the G League Ignite if they choose so.
While this is a significant change from what the rules once were, players are eligible to enter their names into the NBA Draft pool and explore their options by hiring an agent to go through the process, while still keeping their college eligibility. The deadline to make that move is on April 23 beginning at 11:59 p.m. ET. Players have until June 12 at 5 p.m. ET to withdraw their name from the pool and return to college.
The NBA Draft Lottery will be held on May 16, which is also the start of the NBA Conference Finals.