LOOK: Shane Beamer shares touching moment with father, elaborates on what it means to him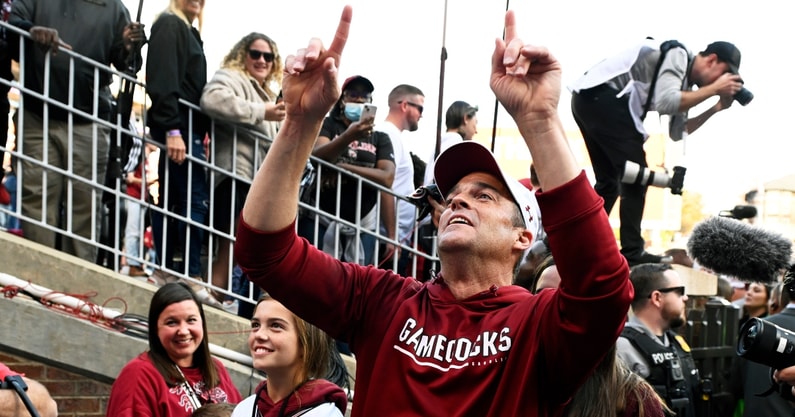 Shane Beamer helped lead South Carolina to a huge upset victory over No. 8 Clemson on Saturday defeating the Tigers 31-30. The win was the Gamecocks' second straight victory over a top 10-ranked opponent, as they defeated No. 5 Tennessee the week prior in resounding fashion, spoiling the College Football Playoff hopes of teams in two consecutive weeks.
Beamer's victory Saturday was not only a big moment for South Carolina's program, but a big one for him personally, as his father Frank Beamer was in attendance for the game. Frank was a legendary coach for Virginia Tech, coaching the Hokies for 29 seasons before retiring in 2015, who also had success in Memorial Stadium over a decade ago like his son.
CLICK HERE to subscribe for FREE to the On3 YouTube channel
Tyrod Taylor led Virginia Tech in rushing and passing to help lead Beamer's Hokies to a 41-23 win over Clemson in 2007, but so did Eddie Royal with an 82-yard punt return for a touchdown.
Similarly, Beamer's South Carolina team made a big play on special teams on Saturday, forcing and recovering a fumble within the last two minutes of the game that ultimately gave them the ball back and allowed them to secure a victory and a moment that Beamer will cherish forever.
Shane Beamer opens up on how he has found a home at South Carolina
Shane Beamer's coaching career started as a graduate assistant at Georgia Tech in 2000, fast forward 20 years and he's being announced as South Carolina's head football coach, the first head coaching job of his career. Beamer is now in year two at the helm for the Gamecocks and was asked if South Carolina has already become home for him after developing such a strong passion for the area.
"Yeah I feel that way, I mean I felt very much that way before I came back as well just because of the ties here personally when I got hired and being born in Charleston and two of Emily and I's three children being born here when we were here before as an assistant coach," Beamer said.
Beamer was an assistant for four seasons on South Carolina's coaching staff between 2007 and 2010 before returning in 2021 to become the head football coach. Beamer made stops at Virginia Tech, Georgia, and Oklahoma before his return to Columbia, a place he always wanted to have a homecoming with.
"So this is where we really felt was home in our minds and where we always wanted to get back to when we were coaching at other places and certainly being able to come back and strengthen relationships with people we already have relationships with from our time here before," Beamer said.