Spencer Rattler hopes Oklahoma fans don't claim him after transfer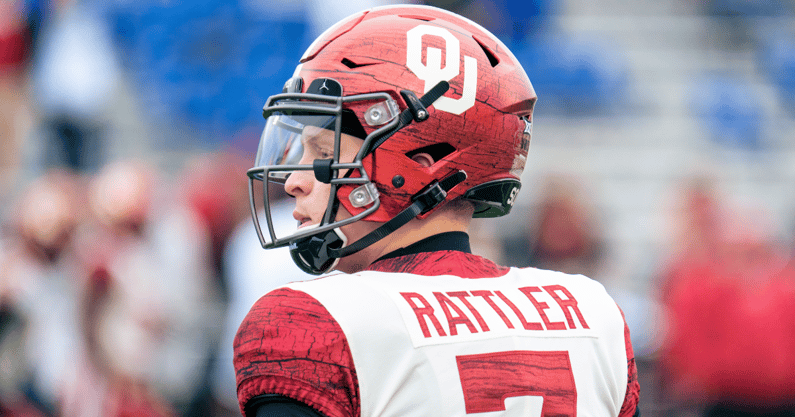 Spencer Rattler is still frustrated with the way his time at Oklahoma came to an end. The former No. 1 quarterback in the 2019 class was benched in favor of Caleb Williams in 2021, prompting him to transfer to South Carolina last season.
Now heading into his second year in Columbia, Rattler made it clear he no longer sees himself as a Sooner. Appearing on the Barstool Sports podcast Bussin' With The Boys, Rattler was asked whether he thinks it's possible any OU fans might try to claim him if he finds success in the NFL.
"I hope not," he replied.
It's hard to blame Spencer Rattler for feeling that way, as Oklahoma fans were anything but patient with him through his struggles to start 2021. When the Sooners found themselves trailing in the Big 12 opener that season against West Virginia, some fans began to chant "we want Caleb." Rattler rallied past the criticism to lead OU to a 16-13 win.
The moment that changed everything came in the annual Red River Rivalry game against Texas. Oklahoma entered that game 5-0, though four of its wins came by a touchdown or less. After the Longhorns jumped out to a 28-7 lead in the first quarter, Rattler was benched for the second straight season.
Williams entered the game and immediately provided a spark, leading the Sooners to the largest comeback win in the history of the rivalry. That ended the Rattler era in Norman for good, as Williams remained the starter for the rest of the season.
"The situation happened how it happened," Rattler said. "Obviously, I was salty about it. I'm a competitor. I want to be out there playing. We were winning games, like I said. We were undefeated at the time that I got benched. So I'm like, 'damn.' But hey, man. You live and you learn. God sent me here for a reason. That's how I look at it."
Rattler moved on to South Carolina to team up with coach Shane Beamer, who worked with him for two seasons as the associate head coach at Oklahoma. He led the Gamecocks to an 8-5 finish, including big wins against Tennessee and Clemson to close the season.
Rattler's performance was up-and-down for most of last year, but he showed signs of a turning point in those final two games. He combined to throw for 798 yards, eight touchdowns and two interceptions. That has led to plenty of optimism surrounding Rattler and South Carolina entering 2023.
Rattler was projected as a potential first-round pick prior to the 2021 season but has since fallen way down draft boards. However, if he can continue to show what he flashed toward the end of last year, he could still have a future in the NFL. But if he goes on to succeed, he doesn't want Oklahoma fans to claim him.