Spencer Rattler takes shot at Pac-12, breaks down improvement facing SEC defenses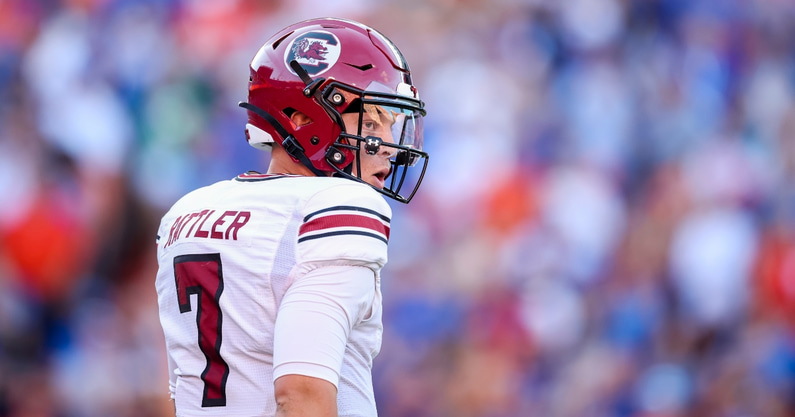 At one point, Spencer Rattler was the most highly-touted quarterback prospect. He chose to go to Oklahoma and play for Lincoln Riley. Things didn't work out and he got benched for Caleb Williams, ultimately leading him to transfer to South Carolina. He's been up and down with the Gamecocks, but in games like the one against Tennessee, Rattler still flashes the amazing skills that made him such an exciting prospect.
While speaking to the media, Spencer Rattler was asked about what he wanted to accomplish this season and what he wants to improve on before thinking about the next level of competition.
"Really, just not back down from competition," Spencer Rattler said. "You know, could have went to the PAC-12 or somewhere like that. You know, there's defenses here that get you better as a player."
CLICK HERE to subscribe for FREE to the On3 YouTube channel
Specifically taking a shot at the PAC-12 feels like Spencer Rattler still has his time at Oklahoma in the back of his mind. After all, Lincoln Riley took the USC job and Caleb Williams followed him. So, it would be easy to interpret taking a shot at PAC-12 defenses as taking a shot at them.
At the same time, it very well may have been a coincidence. He really might have just been pointing out he wanted to compete against the top competition.
"I wanted to come here and win a lot of big games, which we have been doing and we still got games to finish out," Spencer Rattler continued. "So, you know, I wanted to improve all areas, but really just help this program, and I feel like we've done a good job and we've got to finish out even stronger. So, we're still going. That's the focus. Laser focus."
As always, South Carolina finishes this season with Clemson. This year, the game will be at Clemson.
Spencer Rattler expected a big game against Tennessee
Prior to the game against Tennessee, Spencer Rattler already knew he was going to have a big game against the Volunteers, as he explained.
"It was two days ago. This whole week of practice. I got to the hotel [Friday] night. I got to dinner and I was just like, 'I can feel it. This is gonna be a huge, huge game,'" Spencer Rattler said.
"I talked to [Antwane Wells Jr.] that morning and I said, 'I'm gonna throw you the ball like 15 times. Come up with a lot of them.' And he came up with a lot of them…It was crazy, man. I don't know what else to say. It was amazing."