Stanford freshman Harrison Ingram declares for NBA draft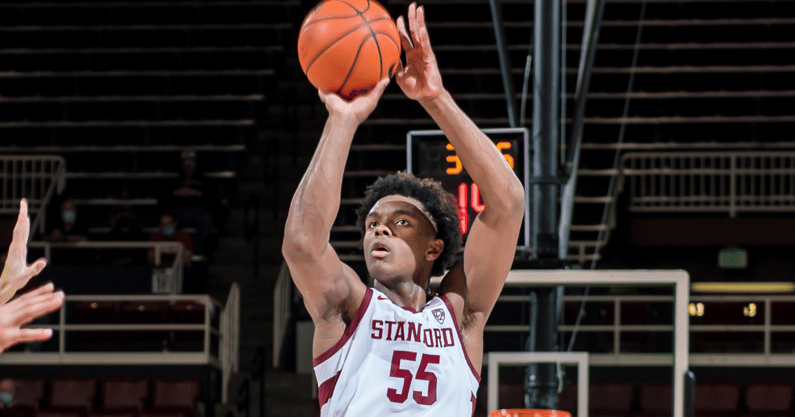 Stanford freshman forward Harrison Ingram will declare for the 2022 NBA draft, he told On3.
"First, I would like to thank Coach Haase and the entire coaching staff for believing in me and providing me the opportunity to play for and represent Stanford University. To my teammates, through the ups and downs we always stayed together. Every time we stepped on the court was something special. Our bond will last forever.
"To my friends and family, thank you for always being there for me. Dad and Mom, y'all have been there for me from the start and sacrificed so much to make sure I had everything I needed. I want to thank my brother, Will, for pushing me and my sister, Lauren, for always supporting me. To my friends, thank you.
"With that being said, I would like to announce I will be declaring for the NBA draft," Ingram said in a statement to On3.
Ingram will leave the option of returning to school open. The 6-foot-7 forward averaged 10.6 points, 6.7 rebounds, and 3.0 assists per game this season for the Cardinal.
Earlier this month, Ingram was named Pac-12 Men's Basketball Freshman of the Year. He is Stanford's fifth all-time recipient of the Freshman of the Year award, and the first since Casey Jacobsen over two decades ago in 1999-00. Ingram led all Pac-12 rookies in scoring, rebounding, assists, and steals.
Ingram is a six-time Pac-12 Freshman of the Week and is one-of-two true freshmen nationally averaging at least 10 points, six rebounds and two assists (Paolo Banchero, Duke).
Prior to Stanford, Ingram was a Consensus five-star recruit and McDonald's All-American. He chose the Cardinal over North Carolina, Purdue, Michigan, Howard, Harvard, among others.