Stanford grad transfer Jaiden Delaire declares for NBA draft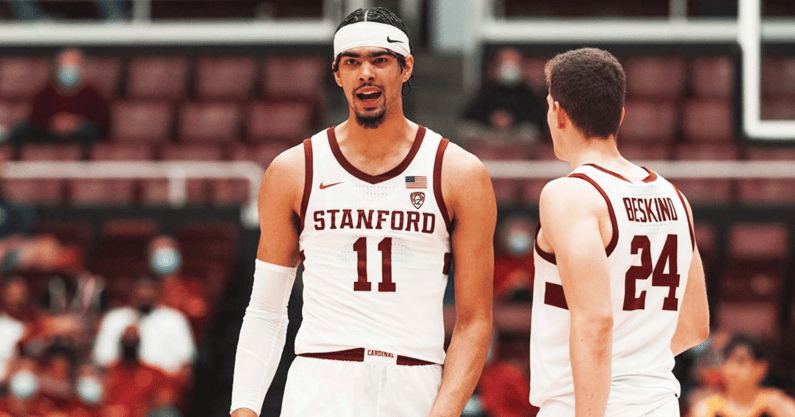 Stanford graduate transfer Jaiden Delaire has declared for the NBA Draft while maintaining his college eligibility, he tells On3. The 6-foot-9 forward entered the transfer portal last month after spending four seasons with the Cardinal.
"As I reflect on my time at Stanford, I would first like to thank God for allowing me the opportunity to be in the position that I'm in today. I would like to thank my parents, Bentley and Sandra, for supporting me every step of the way and sacrificing so much to allow me the opportunities I have. I thank my siblings, Elliyas, Tri-kel, and Chloe, for continuously encouraging me and supporting me to keep going throughout my career. Finally, to my Stanford teammates and coaches, thank you. I've enjoyed my time at Stanford every step of the way. I've met some of my best friends in the world here and have made memories I could have never dreamed of.
"It has always been a dream of mine to play in the NBA. I am going to continue to work at what I love and put myself in positions to be successful. With that being said, I would like to announce that I will be declaring for the 2022 NBA Draft, while maintaining my final year of eligibility," Delaire said in a statement to On3.
Delaire averaged 10.1 points, 4.0 rebounds, and 1.1 assists on 42.5% from the field this past season.
As a junior, Delaire was awarded Pac-12 Most Improved Player after doubling his productivity. He averaged 12.5 points and 4.1 rebounds on the year. The season prior, Delaire averaged 6.1 points and 2.4 rebounds.
Coming out of high school, Delaire was considered a consensus four-star prospect. He also received offers from Providence, Pittsburgh, USC, Rutgers, UConn, Georgetown, and others.