Saturday Noon Fever: How the TCU Horned Frogs and Michigan Wolverine stayed alive to remain undefeated and what it means moving forward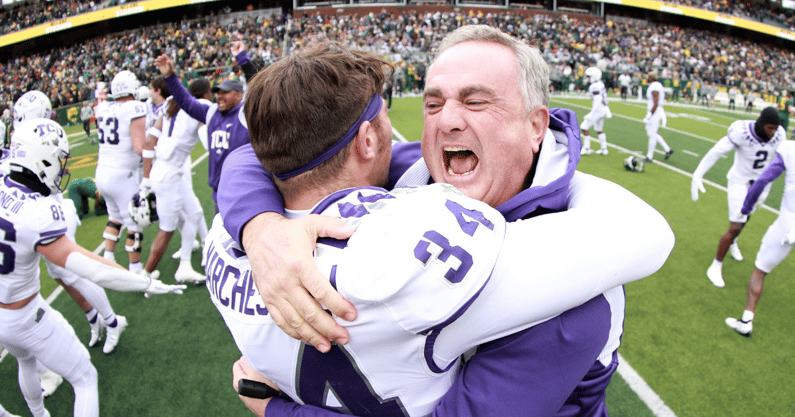 How about some Saturday Noon Fever?
Both No. 3 Michigan and No. 4 TCU did their best Bee Gees impersonations, staying alive with last-second, game-winning field goals to remain in the College Football Playoff hunt. 
In their latest cardiac comeback win, first-year head coach Sonny Dykes dialed up more Hypnotoad magic, riskin'it for the biscuit with a run with 17 seconds remaining — and no timeouts — to force a fire-drill field goal attempt to beat Baylor .
And it miraculously worked. 
After missing a PAT earlier in the game, TCU kicker Griffin Kell calmly nailed a 43-yarder as time expired, cementing a miracle comeback in the final two minutes against the Bears. 
"Our guys just never quit. We were well prepared. We practice that play every Thursday," Dykes said, as if the hockey-line change was no big deal. 
"We practice it. It looks more frantic than it is. I promise you. It was a little dicey there, but we wanted to get the ball to the middle of the field."
"A little dicey?" 
Ok, Sonny. 
In reality, it was utter madness, and Fox Analyst Brock Huard succinctly summed up America's thoughts on the final seconds of mayhem. 
"I'm shaking," Huard said. 
"I can't believe what Sonny Dykes just did." 
That never works. It shouldn't have Saturday. But Dykes' latest dice-roll continue come up snake-eyes. Or Hypnotoad eyes. 
The Frogs are now 11-0 for the first time since 2010 — when they were still in the Mountain West Conference. They continue to win in every way possible, too — big, small, ugly, but always fun.
In just his first season in Fort-Worth, Dykes has done something legendary TCU head coach Gary Patterson never accomplished with the Frogs — beat Baylor, Texas, Oklahoma State and Oklahoma all in the same season. 
A week ago at Texas, TCU's defense delivered its most spirited effort of the season, and at Baylor on Saturday, the offense got cranked up again behind quarterback Max Duggan.
Although TCU was mostly outplayed by Baylor, Duggan seemed to will the Horned Frogs to victory — overcoming the in-game losses of star wideouts Quentin Johnston and Derius Davis and top tailback Kendre Miller by going 7 of 9 passing with 116 total yards on TCU's final two scoring drives.
The senior finished the day 24 of 35 for 327 yards with a touchdown and pick. He added 50 yards and a score on the ground, too, converting a key 3rd-and-1 on a QB draw on TCU's final possession. 
While many continue to dismiss the Horned Frogs' candidacy for the playoff, the fact is they're now two wins away (including a home-finale against a bad Iowa State team) from clinching a CFP berth. They'd become the first Big 12 team not-named Oklahoma to make the field, too.
Even when guys like Johnston and Miller go down, or star defenders get ejected for targeting, they keep findings ways to win. This is a team that's embodied its head coach's Cool Hand Luke personality. They've calmly answered every challenge, so at this point, why expect anything different?
"Our job is to win football games," Dykes said afterward, adding he doesn't care about any nitpicking critics. 
"It's hard to win 11 games in a row. They get paid to say stuff. I think half the time they don't believe what they say."
True dat. 
WHAT ABOUT MICHIGAN'S SURVIVAL AGAINST ILLINOIS?
Meanwhile in Ann Arbor, the Wolverines also survived a big injury to their star playmaker to maintain their perfect season at 11-0, and though head coach Jim Harbaugh lauded his team's "tremendous celebration", it's hard to believe they're truly feeling the same postgame good vibes as TCU. 
"We have a locker room full of heroes" Harbaugh said after Jake Moody drilled a 35-yarder inside the final 10 seconds to stave off Illinois' upset-bid.
Just like TCU, Michigan proved to be the more mentally tough team Saturday, but its victory delivered more concerns moving forward.
Tailback Blake Corum hurt his left knee on a red zone run in the second quarter, fumbling on the play after a big hit. The Heisman Trophy candidate left the game, only to brief return in the third quarter before watching the rest of the comeback from the sidelines. 
Already without talented backup Donovan Edwards, Michigan offense mostly stalled without its two workhorse backs. 
Before exiting the game, Corum had the team's longest run (37 yards) and catch (41 yards), and the Wolverines had just one other explosive play the rest of the afternoon. 
That could prove problematic in The Game next weekend against Ohio State. 
Earlier this season I expressed concern over Michigan's lack of confidence in quarterback J.J. McCarthy, and that hasn't changed despite UM's recent blowout victories the last few weeks. 
The sophomore was clutch on the game-winning drive (albeit aided by a missed pick-play call on a 4th-and-3 conversion), but he was inaccurate throughout a windy afternoon Saturday (just 53% completion) and never threatened Illinois vertically. 
That's been a reoccurring problem all season, as Michigan ranks 99th nationally in passing plays over 20 yards. Although Harbaugh saying he was "super happy" with Michigan's aerial attack against a feisty Illinois defense, they'll need McCarthy to carry a bigger load if Corum is in any-way limited next weekend. 
McCarthy finished with just 208 yards on 34 attempts, most of them coming via screens or YAC. Without Corum, the Wolverines had to settle for four field goal in the second half, highlighted by Moody's game-winner. 
"Legend," Harbaugh said of Moody. 
"Been watching Michigan football since I was a kid. Pretty, pretty decent historian of Michigan football, and I am nominating him for legendary status at the university."
Moody, who won the Lou Groza Award last season, is nearly Mr. Automatic (25 of 30 this season), but it's going to take more than 3s to beat Ohio State next weekend, which is why Corum's health is the storyline of Saturday's survival.  
Harbaugh noted that X-rays revealed no structural damage on Corum's knee, which is encouraging. Still, it's clear Michigan's offense, which was already a poor red zone unit, is no more than middling without its wagon to ride at tailback. The defense remains elite. Its special teams are more than solid. So Corum's ability to heal-up quickly could literally the difference between consecutive Big Ten titles — or Michigan missing the playoff field entirely.
Both the Horned Frogs and Wolverines stayed alive Saturday with some legendary heroics. The dream season remains real for at least another week. 
But TCU has overcome the odds — literally with multiple multi-score comebacks in the fourth quarter in 2022 — all year, while Michigan enters its toughest test with a pressing uncertainty about its wagon on offense.