Sonny Dykes addresses opening as double digit underdog vs Georgia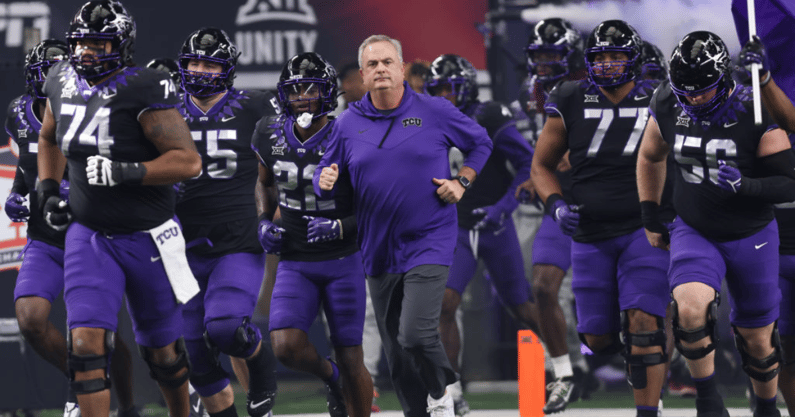 Being an underdog is something TCU is all too familiar with – and the College Football Playoffs have been no different. The Horned Frogs were an eight-point dog to Michigan in the semifinals, and Georgia is already a double-digit favorite over them, too.
Head coach Sonny Dykes addressed his team's major underdog status heading into the national championship game next week and how his team will prepare knowing they're expected to lose big to the Bulldogs.
"It's kind of been that way all year," Dykes said on SportsCenter with Scott Van Pelt after Georgia's Peach Bowl win over Ohio State. "Our group will get ready. We'll get back to Fort Worth, start our prep tomorrow, and guys we get ready to play. We'll play our tail off.
"Georgia is obviously a really good football team. Started the year as the preseason favorite to win the national championship. You know, we didn't start that way. We were picked seventh in our conference. Our guys will be ready, we'll prepare well. I know we'll play well a week from Monday."
There's no reason why Dykes shouldn't be confident in his team. While the Horned Frogs been favored in all but four of their 14 games this season, the majority of big-time matchup TCU has been scheduled for, they're usually the betting underdogs. They're 3-1 in those games.
Their secret? Toughness.
"I think our boys kinda took it to the chin," TCU QB Max Duggan said to ESPN sideline reporter Molly McGrath after defeating Michigan. "Especially our defense, guys up front, receivers, running backs. Doing their thing. Because we wanted to be the tougher team. That's what we kind of take our chest and our pride to be, is tough and gritty and continuing to fight and I think that's we showed today."
The Horned Frogs will keep that chip on their shoulder as they head to Los Angeles for the CFP final where they'll look to shock the college football world by dethroning the undefeated Georgia Bulldogs. Kickoff is scheduled for Jan. 9 at 7:30 p.m ET inside SoFi Stadium live on ESPN.