Sonny Dykes, Max Duggan praise team effort after gutsy Baylor win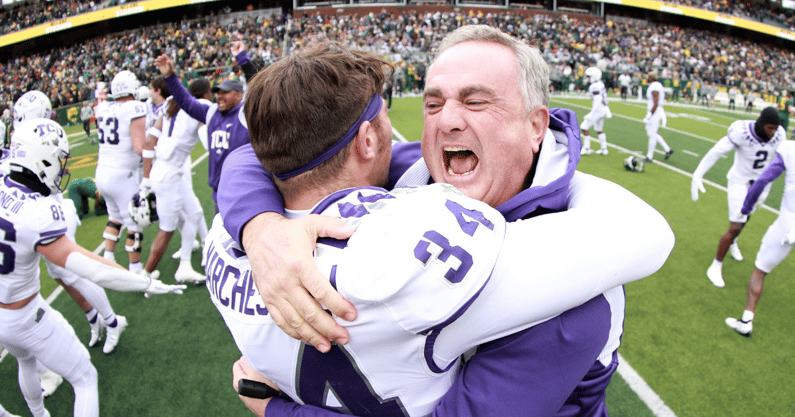 It was Griffin Kell at the buzzer to send TCU over Baylor in a highly dramatic game between the undefeated Horned Frogs and the Bears. TCU was down several offensive playmakers and starters but Max Duggan and company simply got the job done again.
After the game, Bruce Feldman caught up with head coach Sonny Dykes to ask his immediate reaction to the win:
"Wow. What a ballgame. Got to give Baylor a ton of credit, they played their tails off. Our guys just never quit. We just believe in each other, and, you know, we were well-prepared. We practice that play every Thursday, and, you know, just came in and knocked it down. Man, what a win."
Feldman then asked if the final play was really frantic. No, says Dykes, they were ready for this exact situation.
"No. Like I said, we practice it. It's something that looks more frantic than it is, I promise you. You know, we were out of timeouts. Obviously, it was a little dicy there. We wanted to get the ball into the middle of the field. He was more comfortable kicking. So, gotta give them a ton of credit, man. Guys delivered when we had to."
Lastly, Sonny Dykes commented on quarterback Max Duggan, the captain of this 11-0 TCU team.
"Well, he's just an unbelievable player and just an incredible leader. One of the toughest people I've ever been around in my life. He just wills this stuff to happen. So what a credit to him and our guys who never gave up."
Then, Duggan himself was interviewed, and echoed many of Dykes' comments about the team, just crediting the whole team for stepping up while never believing they'd lose at the end.
"Never a doubt. I mean, we believe in these guys, we believe in this coaching staff, to never blink. And I think that's what you saw. Guys pick us up, I miss that throw, defense gets a huge stop, guys go make huge plays, O-line, receivers. Griff makes a giant kick for us. Love playing with these guys and trust all of them."
Duggan also shouted out the offensive line, and really the whole team, for stepping up in a massive moment for the program.
"The guys that have been here, the O-line, continuing to fight. You know, the old veteran guys made big plays. Defense making huge stops. Just next man up. You know, we miss those guys that aren't out there, but next guy's just gotta step up.
"We just believe in each other. Keep the mindset of next game. I think that's what's really helped us so far this season."