TCU linebacker Dee Winters ejected for targeting vs Texas Tech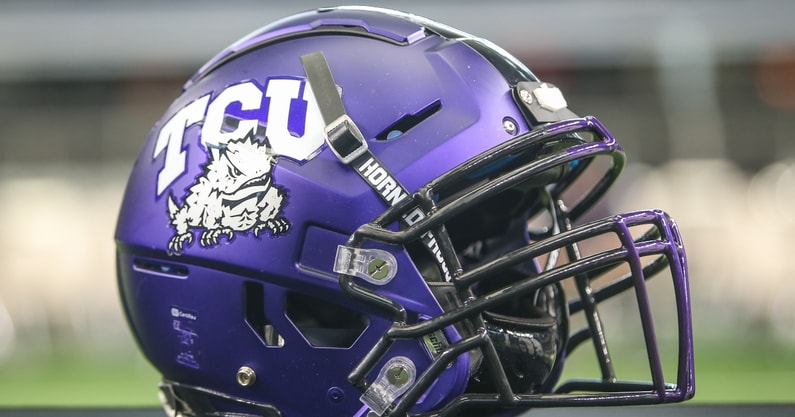 TCU defender Dee Winters was ejected for targeting against Texas Tech on Saturday, with a matchup against the Texas Longhorns looming large for the Horned Frogs.
Check out the video of the hit below and make the call for yourself, but the Big 12 referees saw enough to uphold the penalty on the linebacker.
CLICK HERE to subscribe for FREE to the On3 YouTube channel
Regardless, the Horned Frogs are in an absolute battle with the Red Raiders, as Texas Tech ended up scoring a touchdown to take a 17-13 lead later on the drive.
The electric offense for TCU simply hasn't been there on Saturday, and the Horned Frogs will have to find something to shift the momentum. If they don't, their dreams of the College Football Playoff could be dashed before they ever really got going.
Sonny Dykes not concerned over TCU's initial College Football Playoff ranking
Continuing, when the first College Football Playoff rankings of the season were released on Tuesday, TCU's spot was one of the most heavily debated. The Horned Frogs came in at No. 7, one spot behind Alabama despite being undefeated while the Crimson Tide have one loss. 
But TCU coach Sonny Dykes is one person who didn't concern himself too much over the news. Making an appearance on ESPN's College Football Live on Wednesday, Dykes revealed that he didn't even watch the rankings reveal live and still hasn't discussed it with his team. 
"The funny thing is, we haven't ever talked about it," he said. "Never one time this season have we ever talked about the conference standings. We've never talked about the top 25. We've never talked about the rankings that just came out. That stuff just hasn't really ever crossed our minds much. We have a very difficult game Saturday against a very good Texas Tech team. We know that. So our guys have really taken that 'one-day-at-a-time' mentality and really one practice at a time. 
"We've really worked hard to put ourselves in this position and our guys have stayed incredibly focused. I think we realize that if we lose our focus and start talking about things that are out of our control, all of a sudden we've created a distraction for ourselves. Our guys have played well just because we've avoided that up until this point."
Being overlooked has been a familiar theme for TCU this season, as it was picked to finish seventh in the preseason Big 12 poll. The Horned Frogs are now the favorite to win the conference, however, sitting as the league's only remaining unbeaten. Their past two games saw them notch wins against Kansas State and Oklahoma State, which rank No. 13 and No. 18, respectively, in the CFP rankings. 
Dykes believes that lack of attention has helped TCU to develop the mindset that it has to prove itself, and knows his team will need to continue approaching each game as a must-win.
"I think they all know that we have a very small margin of error," he said. "We can't lose any games. We've got to go out and play well and put ourselves in the best position that we can. I know I'm confident and I would imagine our players are confident that if we are able to win our games, we feel like we would end up in a good position. There's still a lot of football to be played. We have four games on our schedule left and hopefully there'll be a fifth conference championship game. Then we'll kind of see where we are at that point."
Dykes pointed out that there are also at least two teams currently in front of TCU in the College Football Playoff rankings who are guaranteed a loss. With that being the case, the Horned Frogs will not need to worry much so long as they continue to win.
"When you look around college football at this point, there's a lot of teams that are getting ready to knock each other off," he said. "Georgia and Tennessee play this week and as you start looking at that list, obviously Ohio State and Michigan are gonna play. So there's a lot of teams ahead of us right now that still have to play each other. I'm confident that if we continue to play well, people will take notice."