TCU's Max Duggan talks undefeated season and Big 12 title game after dominant win over Iowa State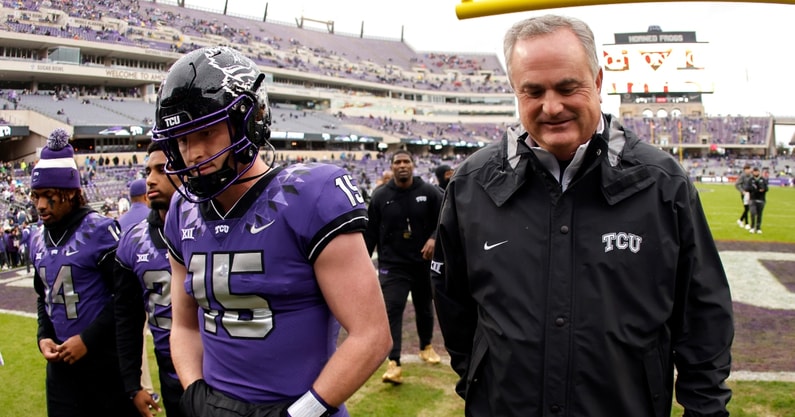 The TCU Horned Frogs have just wrapped up the season with a dominant victory over the Iowa State Cyclones. TCU has finished the year undefeated with a perfect 12-0, something that many college football experts did not see coming. The Horned Frogs have already clinched a spot in the Big 12 championship game. Still, this victory goes a long way toward their chances at a College Football Playoff berth. After the game, senior quarterback Max Duggan explained how this victory and season was made possible, along with his thoughts on the upcoming Big 12 championship.
"Yeah I think guys went out there played confident, did their job, had fun, and just cut it loose," said Duggan. "I think that was the biggest thing. Right in front of the crowd, one last time for the season. It was a lot of fun… I'm not sure yet exactly what I'm doing. But yeah, there is a lot of emotion for your last game in front of this crowd. But it was fun to get a win for the last time (here) this year."
TCU is just one win away from capturing the university's first trip to the College Football Playoff, something that some TCU fans believed was stolen from them by Ohio State in the CFP's inaugural year. This year, with a victory in the Big 12 title game, there will be little anyone can do to keep TCU out of this season's playoffs.
CLICK HERE to subscribe for FREE to the On3 YouTube channel
"This school has had our backs through the ups and downs. There's been a lot of eventful memories through the lows. But being here 12-0 at TCU is just something you'll remember forever. And (I'm) glad to do it here. It's just the culture that coach Dykes has brought in. play the next play, do your job, play for the guys around you, and be confident. I think that helped us.
"We're going to find out who we've got to play, but we're excited. We're going to play a good opponent, depending on who that is. But we got a lot of work to do. And it's going to be a good one next Saturday."
The Horned Frogs now must wait to see who they play in the championship game. The evening matchup between Kansas and Kansas State will determine who TCU faces. If the Wildcats win, they are in. However, if they lose to their instate rivals, it'll be a rematch between Texas and TCU, who the Horned Frogs dominated on the road earlier in November.