4-star DJ Jefferson commits to Tennessee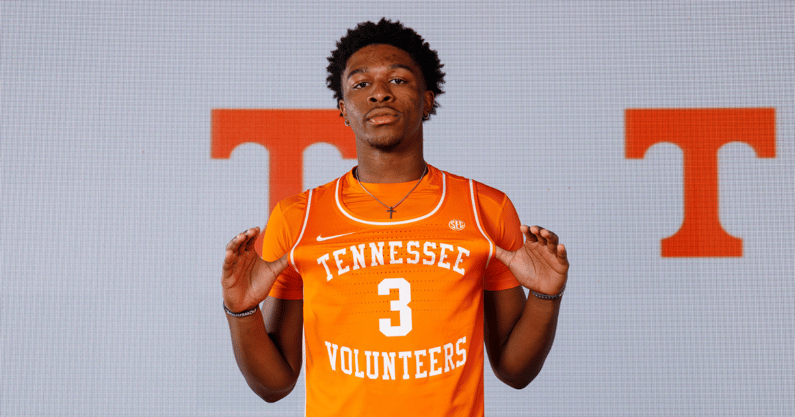 Four-star small forward DJ Jefferson of Minnesota Preparatory Academy has committed to Tennessee, he tells On3.
Jefferson has flown under the radar for much of his high school career. He was previously committed to Tulsa but re-opened his options earlier this year. The 6-foot-5 Texas native made a name for himself at the Iverson Classic All-Star game in late April.
It once appeared like Washington State might end up landing Jefferson's commitment, however, after hearing of his play at the Iverson Classic, Tennessee and Wake Forest extended offers to the talented lefty.
Just two weeks after the all-star camp ended, Jefferson was in Knoxville for an official visit where he silently committed to the 'Vols while on campus. He says Rick Barnes was one of the biggest reasons he ended up choosing Tennessee.
"I chose Tennessee to be beside Coach (Rick) Barnes," Jefferson said to On3. "He has a lot of accolades under his belt, and I want to make history with him, He's coached a lot of big stars such as Kevin Durant, T.J. Ford, the list goes on. So I wanted to be a part of that legacy and be able to say, 'I played for Coach Barnes at the University of Tennessee."
Jefferson is the fourth addition to the 'Vols 2022 recruiting class. He joins five-star SF Julian Phillips, four-star PG B.J. Edwards, and Indiana State SG transfer Tyreke Key.
On3's evaluators are much higher on Jefferson than the industry, ranking him the 45th overall prospect in the class of 2022.
Jefferson Scouting Summary
"Lefty has a smooth floor game. Compact frame with burst at the rim. A shot-maker. Has a smooth shot from three. Attacks closeouts right and left. Can get up on the rim. Consistent effort has been his main question mark. Upside to be an adequate defender both on and off the ball. Is comfortable handling the ball in the half-court. Good balance when attacking the basket. Can finish at the rim from multiple angles. Has a lot of tools in his bag." – On3's Jamie Shaw, National Recruiting Analyst
Jefferson gave his own personal take on his game.
"I get to the rim with ease," Jefferson recently said to On3's Jamie Shaw. "I can get to any spot on the floor, get my teammates involved, and be a real good defender. I've been watching a lot of Anthony Edwards since he was in high school, picking up a lot of how he scores the ball."