Tennessee signee Cameron Carr, "We're going to win; trust that"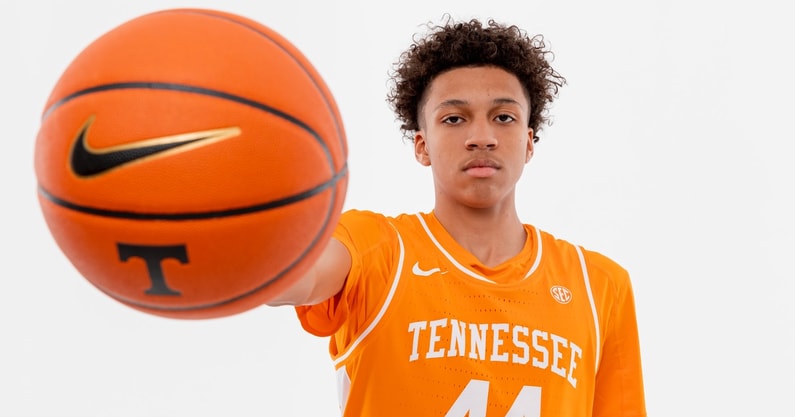 Cameron Carr committed to Tennessee over a final group that also included Virginia, Northwestern, and Kansas State.
Listed at 6-foot-7, the wing is averaging 11.6 points on 1.7 made threes per game for the 22-0, MaxPreps No. 1 ranked Branson (MO) Link Academy this season. Carr is the son of former second round NBA Draft pick and six year veteran Chris Carr.
I recently caught up with Cameron Carr to talk Tennessee.
Cameron Carr
What can Tennessee fans expect from you as a player?
Carr: "Someone who is going to guard. From day one on campus, I'm going to bring good energy and win.. That is something I've really tried to do; every situation I step into brings a winning mentality. That is what they'll get."
What is next in your development?
Carr: "Showing people I can score with the ball in my hands. I'm not just a catch-and-shoot guy; I'm not just one-dimensional, I can score at all three levels. I can get downhill, I can one-dribble pull up. The catch and shoot is just something I do at a very high level."
What was the staff's recruiting pitch to you throughout the process?
Carr: "It came a little later, but when I went on campus, it just felt like it was the right place. Everything felt like my type of energy. Getting to know the coaches and always cracking jokes, it seems like a place I can go and really grow as a man and enjoy my time there. And win."
With Freddie (Dilione) enrolling early, Tennessee now has a three-man class in 2023; what is your scouting report on your fellow classmates?
Cade Phillips: "He's always been athletic, but he's also really smoothed out his jump shot and is knocking down his free throws. But he can really pass the ball. When we first got to campus, he was coming back from a foot injury, but by about the third week here, he was really passing the ball. Every day I would sit back and watch him like, 'this man can really pass.' He can also block shots really well while staying in front of guards. He just keeps getting better."
JP Estrella: "I get to know JP more each day. We play Fortnight about every couple of days for a few hours. I haven't watched him play a ton, but they tell me he's grown a lot recently and is pretty athletic. He's super high-energy and a high character kid. He is someone I can just bond with. Off the court, he is someone I will always just crack jokes with and someone I can trust and talk to. I feel like with him, though, when it comes time to compete, time to win, he can just lock in."
What do you expect your role to be as a freshman?
Carr: "Just getting there and getting my feet wet. Get used to being coached by Coach Barnes. Every freshman is going to go through the same thing, the same struggles. I know once I step on campus, I'm going to play hard, and I'm going to defend."
What are you most looking forward to when you step foot on campus?
Carr: "Outside of basketball, I'm a really boring guy. I mean, I'm either playing video games or at the gym working like to just chill. I guess I'm really looking forward to getting to know the campus, going exploring, and getting to see what all goes on around the campus."
What message do you have for Tennessee fans?
Carr: "Go Vols! We're going to get past that NCAA Tournament course; we're going to win. Trust that."