Chris Lofton explains emotions following jersey retirement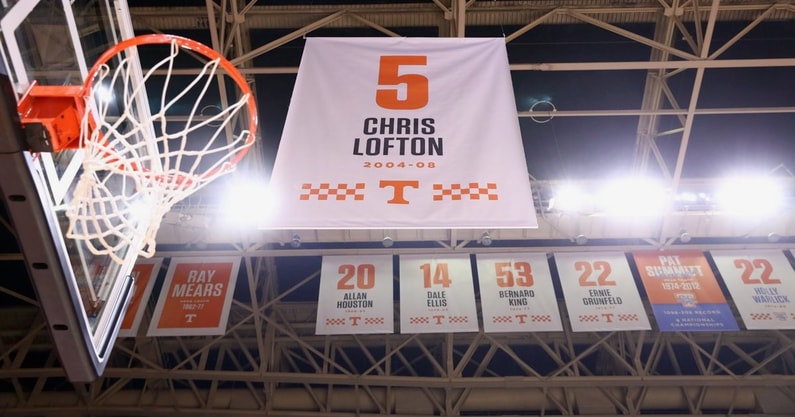 Tennessee retired Chris Lofton's No. 5 jersey at halftime of Saturday's game against Kentucky. After the ceremony, Lofton tried to explain his feelings following the special event.
"It was very special, I can't put into words the emotions I felt," Lofton told Holly Rowe on the ESPN broadcast. "I just want Vol nation to know that I appreciate them and all the support they've given me throughout the years."
Lofton played for Tennessee from 2004-08, earning SEC Player of the Year honors in 2007 and breaking multiple Vol records in the process.
After the 2006-07 season, he was diagnosed with testicular cancer and kept it quiet until after his senior season. He underwent surgeries and treatment before being declared cancer-free. He's been playing international basketball since, minus a short stint in the NBA's G League, and currently plays professional basketball in Seoul, South Korea. 
"I didn't look at myself, it was for my team. I didn't want attention, it was all about them, putting other people first," he said about hiding his cancer diagnosis. "Trying to be selfless and try to persevere, fight and keep God first. … I was always taught to be a better person than a basketball player and that will take you far in life."
Lofton is just the fifth Tennessee player to see his number retired, joining Bernard King, Ernie Grunfeld, Allan Houston, and Dale Ellis.
More on Kentucky vs. Tennessee
Kentucky basketball is double-digit underdogs heading into Saturday's road matchup – the largest betting line since John Calipari took over the program in 2009. That's how bad things are in Lexington right now. And to that point – reiterates how well things are going in Knoxville currently.
The Wildcats will need all they can get against Tennessee. Thankfully for UK, starting guard Cason Wallace is expected to play after playing just eight minutes in the loss to South Carolina earlier in the week.
The loss has propelled Kentucky out of the NCAA Tournament picture for now. The tailspin has seen the Wildcats go from a preseason top-five team to ESPN's Joe Lunardi ranking them in the 'Next Four Out' category in his recent Bracketology.