Former FSU, UCF QB McKenzie Milton joins Tennessee staff as offensive analyst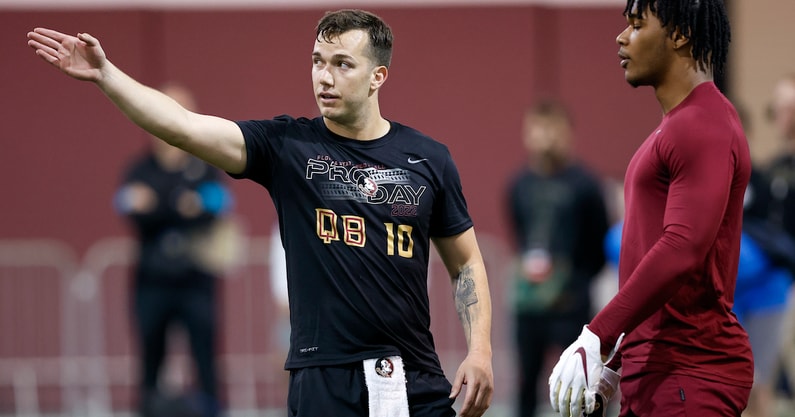 Former UCF and Florida State quarterback McKenzie Milton has taken a job as an offensive analyst on Josh Heupel's coaching staff at Tennessee. Heupel was Milton's head coach at UCF for three seasons.
Milton, who led UCF to an undefeated season as a sophomore in 2017, was set to play a starring role under Heupel in the up-tempo offense. But an infamous, gruesome leg injury late in the 2018 season functionally cost him the rest of his playing career; he did come back and play some for Florida State, despite many thinking the injury would've total ended his career.
Now the former quarterback is giddy to be back around a college program, he told ESPN.
"I'm just excited to get back into football. I missed it a bunch," Milton said.
Milton visited the Tennessee program in March during spring practices, according to ESPN. It was there that Milton felt a pull to get into coaching, a goal of his. Heupel extended an analyst offer not too long after.
"Tennessee is a special, special place, and I got to see that in March when I came up here to check out spring practice and Pro Day," Milton said to ESPN. "What makes a place truly special is the people. I've known half the staff in some way, shape or form from prior places I've been, so it just felt right."
Along with Heupel, Milton's time at UCF also overlapped with current Tennessee athletic director Danny White.
"McKenzie represents everything that is great about college football," Heupel said in a release announcing the hire. "His perseverance, determination and leadership are attributes that made him successful as a player and will no doubt translate to him being an outstanding future coach. He's always been a student of the game and understands the why behind what we do. We are thrilled to welcome McKenzie, Jany and Madden to Rocky Top."
During his time playing at UCF, Milton was one of the best quarterbacks in school history. Milton threw for 8,683 yards and 72 touchdowns — both placing him fourth in program history. He's third in total offense all-time with 9,761 yards and his passer efficiency rating of 152.3 is also third in the UCF record book.
He managed to come back and feature in six games — making four starts — for Florida State in 2021 before ending his college playing career. And though his playing career might've been changed and cut shorter than it otherwise would've been, Milton has found another way to be on a football sideline.