ESPN's Troy Eklund apologizes to Tennessee, Evan Russell after alleging PED use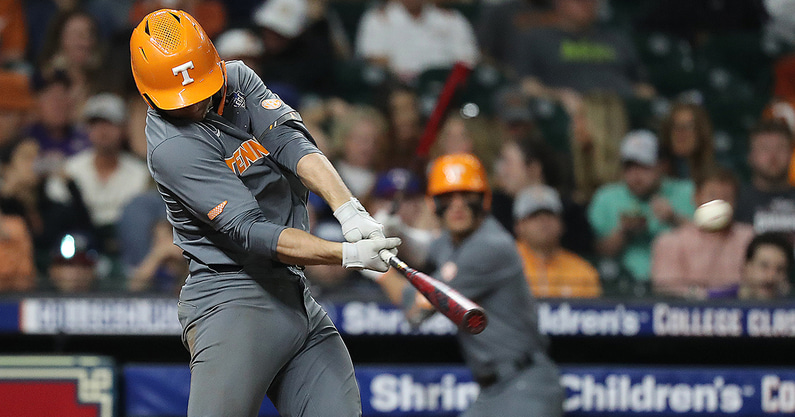 ESPN commentator Troy Eklund found himself under fire following comments regarding Tennessee catcher Evan Russell. Russell missed Friday's matchup against Alabama State due to an illness, though Eklund speculated on air that it was related to the use of performance enhancing drugs.
Eklund commented on the matter Saturday, apologizing during the Stillwater Regional matchup between Missouri State and Grand Canyon.
"I'd like to take this opportunity to apologize to Tennessee's Evan Russell and the Volunteer program for inaccurate, unsourced information I used Friday night during the Stillwater Regional," Eklund said. "It was used in error and should not have been referenced. I regret any hurt or harm that it might have caused."
Following the games, Eklund also took to social media to send Russell and the Vols another message to make sure his point came across.
"While I made a statement on air today, I again want to extend my most sincere apologies to Evan Russell and his family, Coach Vitello and the entire Vols organization and fanbase for comments I made in error yesterday," Eklund wrote. "I know Coach Vitello and [I] believe he knows where my heart is coming from and that I didn't mean to cause any harm. I'm truly sorry and will work to do better in the future."
After the Volunteers resounding win on Friday, head coach Tony Vitello explained Russell woke up feeling sick and was not able to play, though was cleared for their game Saturday against Campell. Russell would go on to earn one hit and one stolen base in his return to action.
The Vols now turn their attention to the winner of Sunday's matchup between Georgia Tech and Campbell. With a win, Tennessee is on to the Super Regional, though has to get past one of their two remaining regional foes. First pitch is set to be thrown at 7 p.m. ET.