Evan Russell weighs legal action against ESPN for PEDs comment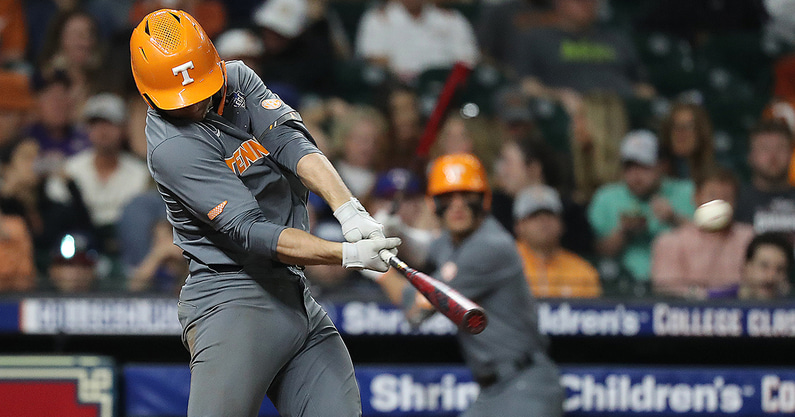 When Tennessee was gearing up to make a run in the NCAA Tournament, Evan Russell suddenly missed the Volunteers' first game of the postseason. Tony Vitello confirmed Russell was dealing with an illness, but ESPN's announcer said during the broadcast Russell was suspended for the season for PEDs.
That led to a strong response from Vitello — and Russell could take a drastic measure of his own. He told Outkick's Tomi Lahren he's thinking about legal action against ESPN.
"Me and my legal team, we are pursuing many options," Russell said. "But in a sense, it's kind of to prevent it from happening again. There's a lot of college baseball players, college athletes, that are really trying to make a career out of [their sport]. To have anyone professionally get up there in front of millions of people and say something derogatory toward anyone is kind of a tough thing to do.
"I'm all about boosting people and supporting people because there's no player out there that's not trying to do well and not trying to have a good reputation and stuff like that. I think emotions kind of got the best of the guy. I'm sure he's a pretty good analyst and stuff."
Russell also told Lahren the announcer, Troy Eklund, didn't personally reach out to him about what happened. Eklund issued a public apology about the situation, but Russell said nothing was said privately about it.
"He didn't reach out personally to me," Russell said. "I watched the apology. I wasn't necessarily looking for an apology from him, in particular. He didn't reach out to me personally. He kind of made it, trying to save himself."
Russell ended up getting cleared and returned to the lineup for the next game against Campbell. Tennessee made it to the Super Regional round of the NCAA Tournament, eventually falling to Notre Dame in Knoxville to miss out on the College World Series.