For The R3cord: Outlining Nico Iamaleava's role for Tennessee in 2023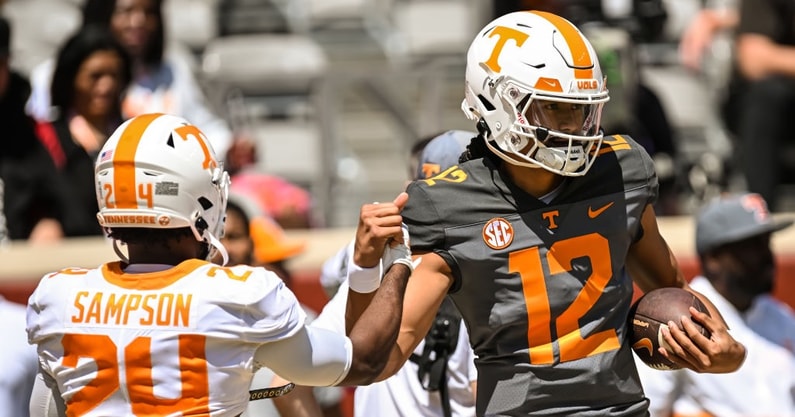 Tennessee landed its quarterback of the future in five-star true freshman Nico Iamaleava out of the 2023 recruiting class.
Many Vol fans want head coach Josh Heupel to throw the blue-chipper right into the fire — instead, it's looking like he'll be second on the depth chart as it stands heading into the summer.
"I think he plays in four or five games," VolQuest's Austin Price said of Iamaleava on On3's For The R3cord with Shannon Terry. "I don't think you worry about the four-game redshirt — if Nico is who you want him to be, he's not going to be here for four years. I want to get him into any blowout situation in a conference game against quality players and quality teams. Outside of that, you know he's going to play in the easy games.
"For Nico, I think he is in a perfect position because he can grow and learn in year one. He is not thrust into the scene, provided Joe [Milton] stays healthy"
Milton, who is entering his sixth season of college football and his third with Tennessee, is the presumed No. 1 on the depth chart unless told otherwise.
His experience over Iamaleava in college football, and in Josh Heupel's offense, give him the edge over his true freshman cohort. Iamaleava said that there's been a learning curve when it comes to playing in Tennessee's up-tempo offense, so having Milton to show him the ropes will do wonders for the young quarterback's game in the long run.
"I'm always looking to get better and be ready for this year. It's my job to go out there and compete and be ready when my number's called," Iamaleava said during spring training. "Anything could happen this season, so really just being like how Joe was to Hendon last year, really, and being prepared whenever my number's called."
Iamaleava is the highest-rated quarterback recruit to commit to Tennessee since Peyton Manning, and the expectations for him to perform well right away are prodigious. No one would be surprised if the prodigy started for Josh Heupel's squad on day one — and Iamaleava is doing all he can to develop into a starting SEC quarterback by the first game.
Regardless of his development, this is Joe Milton's team, for now. Iamaleava has already said that his role as a true freshman is to be ready and help prepare Milton to be the best version of himself. Still, it's only a matter of time before Iamaleava takes over the reigns in Knoxville.