Josh Heupel on balancing monster game with Florida, big recruiting weekend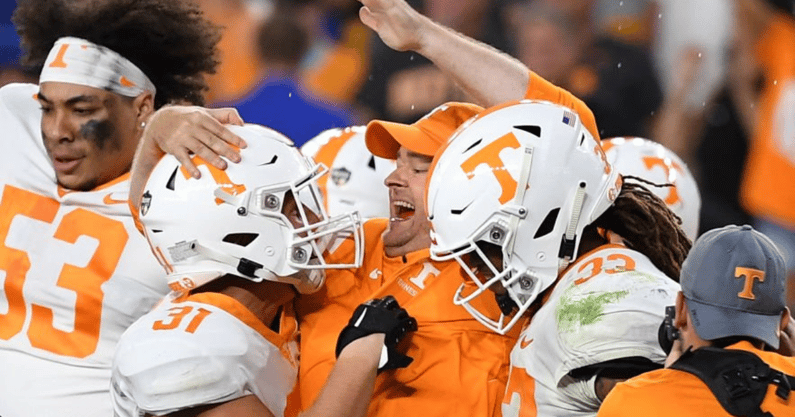 The 'Game of the Week' title belongs to Florida–Tennessee, as the college football world will be watching on Saturday. It's a crucial game for both programs, with Josh Heupel wanting to continue the progress while Billy Napier will be hoping to make an early statement in the rivalry.
As usual, Neyland Stadium is going to be rocking come 2:30 p.m. in Knoxville. Heupel said he expected the Volunteer faithful to make it a difficult place to play and thinks the crowd will have a major impact on the result. Recruiting is another place the fans will provide an impact, showing top-level prospects what they would get on a weekly basis at Tennessee.
CLICK HERE to subscribe for FREE to the On3 YouTube channel
"Can have a huge impact on the game," Heupel said on the Neyland Stadium atmosphere. "Expect it to have a huge impact on the game. Make it hard for them to communicate. Expect our crowd to be a huge factor in the game. But it's also a great environment for our recruits to be able to see what gameday looks like here. There's nothing better than gameday here in Knoxville, TN.
"It starts when we load the busses and drive over. You see the fans along the river. Whether that's on the boats, tailgating on the other side of it. When you get out for Vol Walk and there's 40,000 people man. There's nothing like it in college sports."
CLICK HERE to subscribe to the On3 YouTube channel today for all of the latest news on college football, recruiting, NIL, and more!
Josh Heupel on how he balances game vs. Florida and recruiting
Even with a huge opponent such as Florida in town, Heupel will have to find time to interact with recruits visiting Tennessee. He explained how the balance between the two works, saying nothing should be taken away from game prep. But recruiting is important enough where some time will need to be taken.
"Recruiting, it's a huge weekend for us," said Heupel. "You don't do anything that takes away from your preparation, your player's preparation. The game is the most important thing but those moments that you have an opportunity to — the recruiting pieces — is vital to the continued growth of our program."
Some of the top players in the country will be in town this weekend for Heupel, including his five-star quarterback commit, Nico Iamaleava. Getting a win over Florida will always be the top priority for the head coach but attracting even more talent into his program is a close second.