Jabari Small says loss hurt more because of Hendon Hooker injury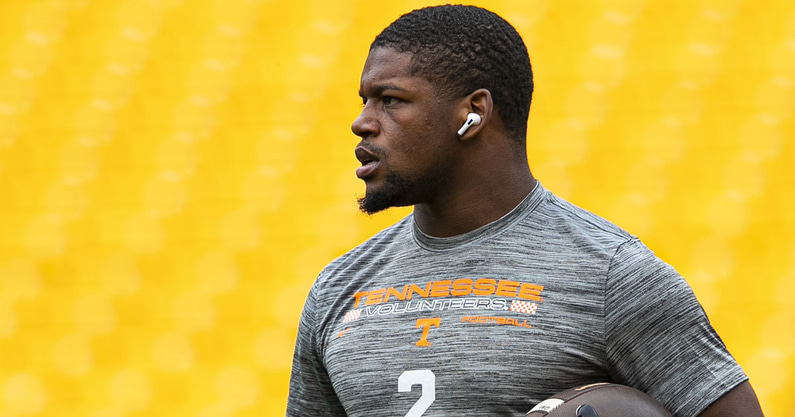 No. 10 Tennessee watched its playoff chances go up in smoke in an upset defeat at South Carolina on Saturday. And a season-ending Hendon Hooker injury only left Volunteers teammates even more devastated.
The veteran leader for the team crumpled to the turf with a non-contact injury, lost before the game was fully out of reach.
"It hit us pretty hard. And the way it happened probably hurt a little more," running back Jabari Small said Tuesday. "Obviously losing Hendon we were pretty emotional. But he's in good spirits. He was in good spirits today, which kind of gave us a little kick at practice. But it hurts. It hurts."
The Tennessee quarterback was the heart and soul of his team's offense, a bona fide Heisman Trophy contender and a team leader.
Hooker finished his season 229-of-329 passing for 3,135 yards and 27 touchdowns against just two interceptions. He also ran for 430 yards and five scores.
And despite Hendon Hooker's injury, he has maintained his leadership role this week around the team facilities.
"For me I was real emotional, so I could barely look at him sometimes on Saturday," Small said. "But to see him smiling, that just made me happy. He's a warrior. We know what type of person Hendon is. He may be an even better person off the field than he is on the field. So I was just happy to see him in good spirits and he was also leading today at practice.
"Just the utmost respect for him and everything he's done for me and the team and this program."
Hendon Hooker injury won't mute the impact he had
One thing every college football coach is looking for when he takes over a program is real leadership from the player level. Get that and it becomes a lot easier to sell other players on your culture.
And before the Hendon Hooker injury, he was providing that in spades for second-year coach Josh Heupel. He still is after the injury, really.
His impact will be lasting.
"I guess you could say monumental, kind of. I mean he's done a lot in a short span while he's been here, in the way he touches people off the field and the way he moves, his actions," Small explained. "He's always a caring person. He's had success, he's handled it very well and you know his story and where he come from and how much he had to sacrifice, how much ups and downs he had to go through. I go to him for advice all the time."
Tennessee will conclude its regular season, without Hooker, this weekend with a road trip to Vanderbilt. The two programs will kick off Saturday at 7:30 p.m. ET with a broadcast on the SEC Network.