JD PicKell: Tennessee needs to beat Georgia or Alabama in 2023 to keep momentum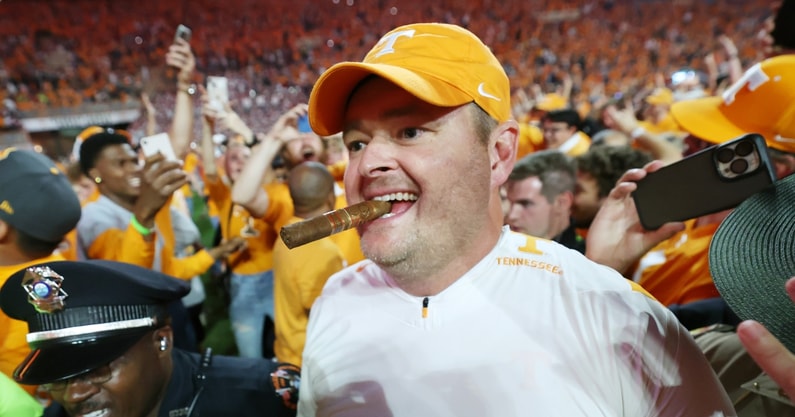 The Tennessee Volunteers are coming off their best season since the Phillip Fulmer era. In his first two seasons, head coach Josh Heupel has done a remarkable job. Now, he needs to find a way to keep things rolling.
On3's JD PicKell explained that for Tennessee to keep the momentum going in 2023, the Volunteers are going to have to beat either Alabama or Georgia.
"Now, here's the third thing, and I think it's very important for Tennessee to take that next step to be a championship-level team," PicKell said. "I need you to beat Georgia or Alabama."
"If you can beat both, you're likely playing for a national title. But, here's the reason why I say you need to beat at least one of those teams, think about last season. Think about beating Alabama and just the juice that gave your program. You finished 10-2, but having one of those wins against Bama just meant so much more."
As PicKell pointed out, Tennessee split its games against Alabama and Georgia in 2022. They beat the Crimson Tide in a thriller, while they were dominated by Georgia. Next season, the Volunteers will head to Bryant-Denny Stadium to take on Alabama, while the Bulldogs are making the trip to Neyland Stadium.'
JD PicKell went on to ask what the feeling would be like if Tennessee's two losses were to Alabama and Georgia. His conclusion was that there would still be a need to get over the hump. Well, they did that this season, so now they need to keep the momentum rolling.
"So, beating Georgia or Bama next season is very doable, but it's going to take your best shot. Everybody knows that."
Josh Heupel on the culture at Tennessee
After being the surprise team this season and darlings of the SEC, head coach Josh Heupel went in depth describing the culture in place at Tennessee.
"I just know that where we started, where we've gotten to, but there's so much left out there for us. It's in individual habits, it's in us continuing to improve in communication as coaches, refining what we're doing inside of our building, as we continue to develop depth inside of our program, recruit," Heupel explained.
"One of the great lessons, I said this to the football team after the game tonight, is two years ago there was so much outside noise that wasn't necessarily positive, and none of those guys paid attention to it. They decided collectively and individually to go accomplish something, and they worked for it."