Josh Heupel addresses facing former QB coach Jeff Lebby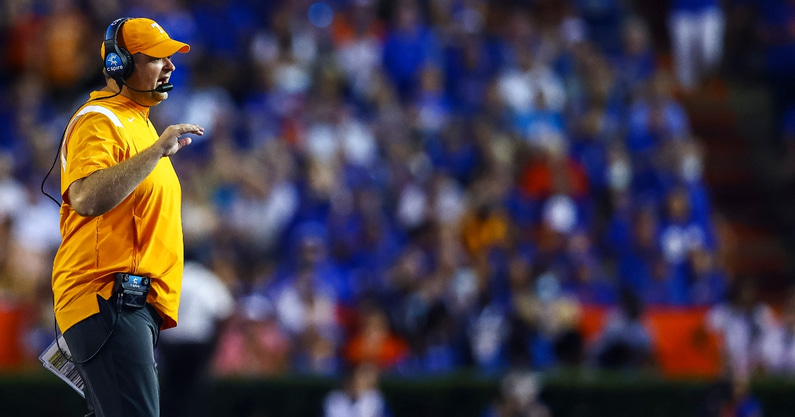 While Josh Heupel may be facing Ole Miss for the first time, the Tennessee head coach is more than familiar with some coaches on the other side. As he tries to defeat the Rebels on Saturday, he'll also be trying to defeat his former quarterback's coach and offensive coordinator — Jeff Lebby.
When Lane Kiffin left Florida Atlantic for Ole Miss, he brought Lebby with him to Oxford. Prior to seeing his old friend on Saturday, Heupel spoke complimentary of Lebby and his offensive prowess.
"Jeff does a great job," stated Heupel. "(He) was our quarterbacks' coach at UCF when I first got the job there. He's a highly competitive guy, does a great job. You can see offensively that there's a rhyme and a reason behind everything they're doing. They're going to put defenses in a conflict. Up-tempo, similar to what we do and I think we are the top two teams as far as plays per minute in power five football."
Furthermore, Heupel elaborated on what Lebby has brought to the Ole Miss offense. He believes they do a great job of finding big plays, and they're a supremely talented group.
"They do a great job of being balanced and creating big plays too," said Heupel. "It starts with the quarterback but they're really efficient in the run game, him being a part of that as well. He does a great job on scrambles too, so even though you want to push the pocket on him, you have to do a great job of bottling him up and they have special playmakers on the outside too."
Since joining Ole Miss, Lebby and Kiffin have put their brains together to create a dynamic offense. We'll see if Heupel can rally his troops to slow them down.
Heupel on Matt Corral: 'Special player.'
Furthermore, Heupel recognizes that Kiffin and Lebby's quarterback is a one-of-a-kind talent. When Matt Corral comes to town on Saturday, the Tennessee Volunteers must make it their mission to stop him.
"Obviously, offensively, their quarterback [Matt Corral] is a special player and has done a tremendous job, this season in particular, but last season as well," said Heupel. "He's a dynamic playmaker and we got to make it tough on him all night long. Got to do a great job of bottling him up as well."
Corral has been the Heisman Trophy favorite at times, embroiled in a tight race with Alabama quarterback Bryce Young. If Tennessee is going to defeat Ole Miss on Saturday, they'll need their quarterback to keep pace with Corral — Hendon Hooker.
In a game with plenty of juicy matchups, Josh Heupel and Lane Kiffin could give us a glimpse into the future of the SEC. With these men at the helm, Tennessee and Ole Miss both have bright futures.