Josh Heupel discusses the importance of development of players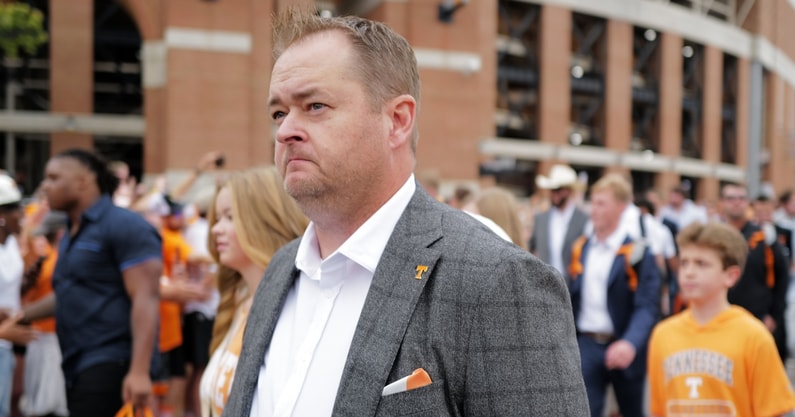 At Tennessee, head coach Josh Heupel hopes to build a program that does an excellent job developing players. In fact, he'd argue he already has a program that does this well.
Still, it can be difficult to do this in the modern era. After all, players can leave through the transfer portal quickly if they're not playing.
"Well, I do think that the development of the athletes that we have here has been shown in the first couple of years," Josh Heupel said. "What we do on the strength side of it, you know, developing the athlete specific to his position. You've seen the way that they've performed at Pro Days, at combines. So, I don't think you ever give up on the development of your roster."
As Josh Heupel explained, player development is constant. It's also incredibly important for the entire program.
"At the end of the day, everybody that steps foot on his campus, day one, you better have the mentality and the approach that I'm competing to be the starter right now, here today. If you do anything less than that, you're cheating yourself, you're cheating the program, you're not going to be ready when your opportunity comes," Heupel said.
"At the same time, for the 125 guys that sit in our team room, it's their responsibility, it's their job, to prove that they're gonna play at a championship level. When you do that, then it's our job as coaches to find a role that's going to allow you to play at a really high level and help us win football games."
Spring ball gives teams an excellent chance to develop players. In particular, as Josh Heupel explained, young players tend to make excellent strides.
"So, that's what these 15 days are all about. Don't make the same mistake twice. Reset from play to play. Grow every single meeting and every opportunity that you have on the field. The young guys inside of our program, and everybody should, but they're going to make a ton of strides in 15 days. The first five aren't gonna be as good as the second five, aren't gonna be as good as the third five. But when they come back in training camp, they're going to be a completely different player too because they have an opportunity to sit back, digest, reset, learn from everything, be intentional in the way that they work all summer, and grow during the course of training camp too," Heupel said.
"So, it's an ongoing process. It doesn't just happen. You don't just snap your fingers and be ready to play, but that's part of having a deep roster, having competition, having the opportunity to get all these guys reps. Really beneficial as we go through spring ball."
Josh Heupel on Tennessee's depth
Going into spring, Josh Heupel is happy with the team's depth.
"Yeah, I think for you guys, you walk out there and you can see the difference in depth at every position. The new guys, the young guys that we've added length, athleticism, size on the offensive and defensive lines. Much deeper than we've been, skill spots same thing," Heupel said.
"For us this spring we're truly gonna be able to get reps for an entire roster of guys and in year one we were a shell of just numbers but athletes on the grass that we are today. So that allows you to increase the number of reps that you're going to get during the spring and it also creates a ton of competition and urgency from the meeting rooms to what you're doing on the practice field."