Josh Heupel explains how Tennessee changed culture quickly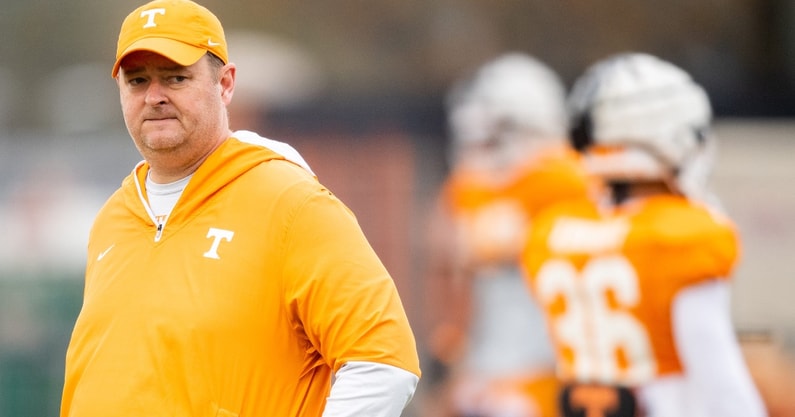 Josh Heupel arrived on the scene in Knoxville in 2021, and since then he's done a phenomenal job turning around the Tennessee Volunteers.
Many questioned the hire by the program when Heupel was brought in, but those questions have been cleared away by the ferocity of the former UCF leader's rebuild. Joining 99.1: The Sports Animal's Josh and Swain, Heupel explained how he got things going in the right direction in Knoxville.
"At the end of the day, your staff has to be like-minded, and in alignment. Message has to be carried, and the standards have to be carried over into every position room, and into everything that we're doing. From medical to strength and conditioning. All of it," stated Heupel. "Then your players have to buy into it. Typically you have to have great leadership in there, that helps push everybody over the fence, and start living right and doing right. Creating a great energy and competition, and accountability inside of the building.
"Some of the success in Year 1, every time I've been a part of starting something from scratch a little bit, as a player or as a coach, there's increased buy-in from each cycle. Kids get comfortable in hearing the message and understanding what it's going to look like each day. Some of the success that we had, more so the fall when we started playing, really started to heighten our players urgency in doing things the right way, and increasing our culture inside the building."
Heupel showed signs in his first season with the Volunteers, amassing a 7-6 record, but it was last season that really turned the tides for Tennessee, and the coach recognizes that. Still, there's plenty of work to be done.
"We took a massive step last year," added Heupel. "This group, since they've gotten back in January, has been absolutely awesome. How they approach their workout, how they approach their daily lives. The competitiveness they have from within. You know, there's increased leadership inside of our building. Guys are making sure that their teammates are doing it right. I love what we did through spring ball. Extremely physical, a lot of great competition on the grass.
"As we go into the third quarter of our offseason here in summer workouts, our urgency has to continue to increase, and we've got to continue to grow as a football program."
Josh Heupel almost brought Tennessee to the College Football Playoff last season. While it seemed unfathomable a couple of seasons ago, the Volunteers will be a contender in 2023, and that's all you need to know about how impressive his tenure has been.