Josh Heupel explains how Tennessee defied expectations this season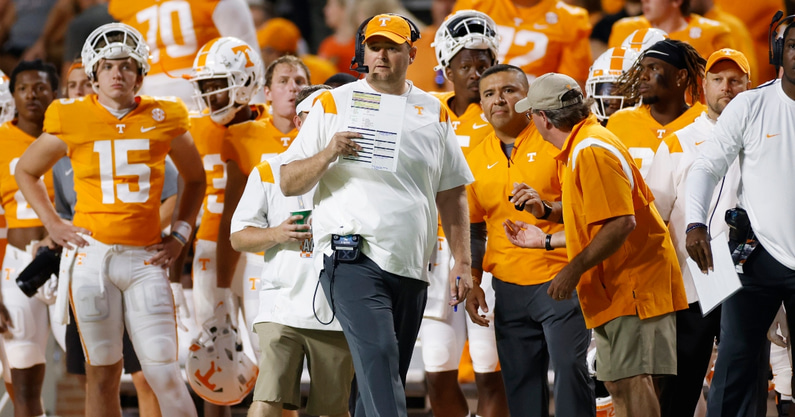 Josh Heupel has provided Tennessee with hope. Volunteers fans are firmly planted behind their coach, believing he's the one to lead them into the next great era in their program's history.
This season, Heupel's squad has defied just about every expectation placed on the first year head coach. In a press conference earlier this week, Heupel stated that his team never concerned themselves with outside noise — Tennessee was always trying to be the best version of themselves.
"I think outside expectations, outside noise is something that myself and our staff have tried to not pay attention to. I think our players have bought into that as well," stated Heupel. "From the moment that I got here, I never placed a ceiling on what our football team could do.
"We're in a race against ourselves. I'm so proud of the growth from the first day when I got here to who we are now. Certainly want some things to be better as a coach, but the growth of individuals and collectively as a team is really special. We've laid a great foundation to what we're going to be in the future."
In Josh Heupel's first season at Tennessee, they've taken care of business and won enough games to become bowl eligible. Now, they'll look to end their season with a victory over an in-state rival and SEC counterpart in Vanderbilt.
Kirk Herbstreit heaps praise on Josh Heupel, Tennessee
Many around the nation are praising the job Josh Heupel has done this season. As he continues to turn heads, ESPN's Kirk Herbstreit heaped praise on the Tennessee coach.
"Raise your hand. How many people had Josh Heupel getting to six, more likely seven wins, and going to a bowl game in his first year?" Herbstreit said on the ESPN College Football Podcast on Monday. "After everything, the transfer portal, it was a one-way street out of Knoxville, and this dude goes in there with a new AD in Danny White out of UCF and these boys, they're creating a little bit of buzz, man. With that offense, Hendon Hooker, scoring on a lot of people, including Alabama, they've become a fun team to watch and they're going to recruit very well.
"Tennessee is a stock that's … going up. You're going to want to buy that stock. Good for 'Heup' getting his team to a bowl game, as well."
Tennessee fans have been itching for a winner, and Josh Heupel is building a foundation for one. The future is bright in Knoxville for the Volunteers.