Josh Heupel reveals Len'Neth Whitehead out for the season following surgery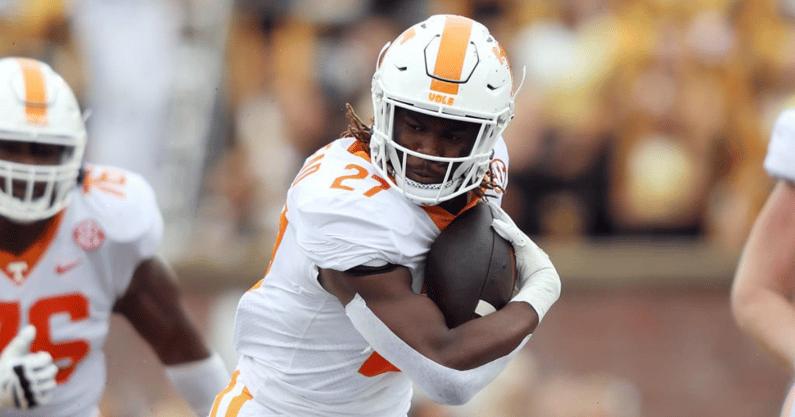 Josh Heupel had no injury updates to report today during his press conference to open Tennessee's fall camp besides some tough news for redshirt sophomore Len'Neth Whitehead. Heupel reported that Whitehead sustained an injury recently that will force him to miss the entire 2022 season.
"Len'Neth will be out for the entire year this year. (He) just sustained an upper body injury a couple of weeks ago and had season ending surgery," said Heupel.
Whitehead ran the ball 32 times for 207 yards and a pair of touchdowns last season. Whitehead, a former Top-20 running back in the On3's 2020 Consensus Top Running Back Recruits, expected to have an even bigger role for the Volunteers this fall. Josh Heupel will now rely on Jabari Small, Jaylen Wright, Justin Williams-Thomas and Dylan Sampson in the backfield.
Beyond Whitehead, Heupel says the rest of the roster is ready to roll for fall camp. They expect to be even healthier by the time camp is over as opening kickoff draws closer.
"For the rest of our football team, we're really pretty healthy with some guys that will build up through the course of training camp. We're really in a really healthy situation here moving into training camp."
Josh Heupel breaks down difference between Year One and Year Two
Josh Heupel surprised many with how well he adjusted to the SEC in his first season as the leader of the Tennessee Volunteers.
However, Heupel had the advantage of being a new commodity during Year One in the conference. Now, the Volunteers coach will have the weight of expectations on his back entering Year Two, and he explained all the differences he's seeing during SEC Media Days.
"It's so different with your players. A complete understanding of what it's going to look like for 80% of your roster. What game days are going to look like, training camp is going to look like. The continuity that we were able to keep with our staff, really everybody coming back. That's really changed the way that we've worked from the time that we got back in January," stated Heupel. "We redefined everything, but it was really about our daily work habits. How we grow from the time that we got back in campus instead of building relationships with new people. For us, really excited about what we've done, and the first three quarters of our off-season. Excited about training camp."
Continuing, the Volunteers head coach revealed how he's measuring progress entering Year Two in Knoxville.
"You measure it in the growth and standards that you have inside of your building. You measure that daily, weekly with your players and put that in-front of them. Physically, they can see the strides they've made, and how they've grown. Each phase, it's about each day, winning the day, winning the set, winning the rep. That's true in everything that you're doing," explained Heupel. "It's your meals, your training room. It's class. I'm really proud. The last three semesters, our team GPA has gone up every semester. The best three semesters in the history of Tennessee Football. How we're doing off the field, those things show up in what we're doing on the field too. Our players are bought into that."
Last season, Josh Heupel lended credence to the idea that Tennessee hired the right guy, and he'll be looking to prove that point even further in Year Two.