Josh Heupel reveals what type of defensive coordinator he would be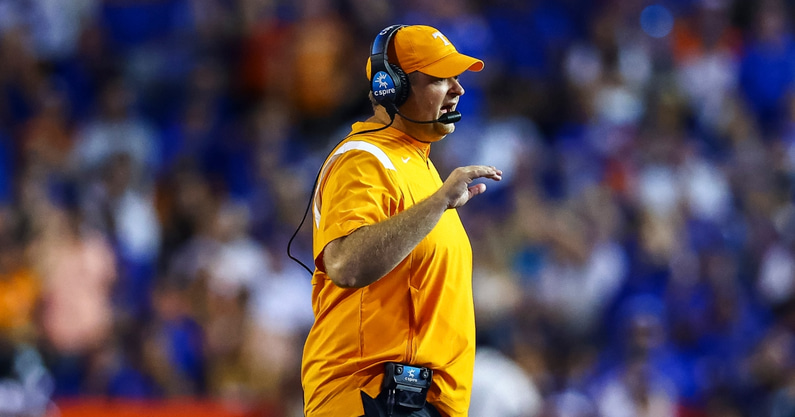 Tennessee Volunteers head coach Josh Heupel knows a thing or two about football, thanks to his years as a player and a coach. As a player, he led the Oklahoma Sooners to a national championship in 2000. And since joining the coaching ranks in 2003, he's worked strictly on the offensive side of the ball. So during Monday's press conference, one reporter asked what his coaching style would be as a defensive-minded coach. In particular, they wanted to know if he would have an aggressive blitzing style of defense.
"Yes Sir. Absolutely. That's what my dad was and that's what I would be doing too," said Heupel.
Since Heupel is an offensive-minded head coach, one could wonder exactly how much input he has on his defense and how does he know how much influence do you have on the defense; which is precisely what the reporter's follow-up question was.
"I think it's my experience being around the game with my dad and being on the defense side of the ball. I think it's really important that you hire great people," said Heupel. "And then you know set the parameters of what you foresee it of the style play that you want to have and then you gotta let guys do that."
Heupel shares the credit with his staff
The Tennessee headman did not take all the credit for himself. Instead, he highlighted his three primary coordinators on the Volunteers staff and revealed his secret to what makes his system work.
"We've got a tremendous staff on the offensive side of the ball, too, starting with coach (Alex) Golesh and our assistant coaches. But defensively, coach (Tim) Banks and his ability to lead, his ability to teach and mentor and that's shared by his assistant coaches on that side of the football and then coach (Mike) Ekeler, true to who he is just personality-wise, and having known him a long time. You hire people that fit your vision in the building outside of the building and then you gotta let them grow," said Heupel.
In his first year at the helm, Heupel has Tennessee bowl eligible, after failing to do so last season. His Volunteers currently have a 6-5 record, with four other five losses coming at the hands of teams currently ranked in the College Football Playoff top 25. This Saturday, Tennessee is going for their seventh win on the season against SEC east rival Vanderbilt. And with a possible 7-5 start to his tenure with the Volunteers, Heupel would be off to a strong start.