Josh Heupel says Tennessee has been 'nothing but cooperative' in NCAA investigation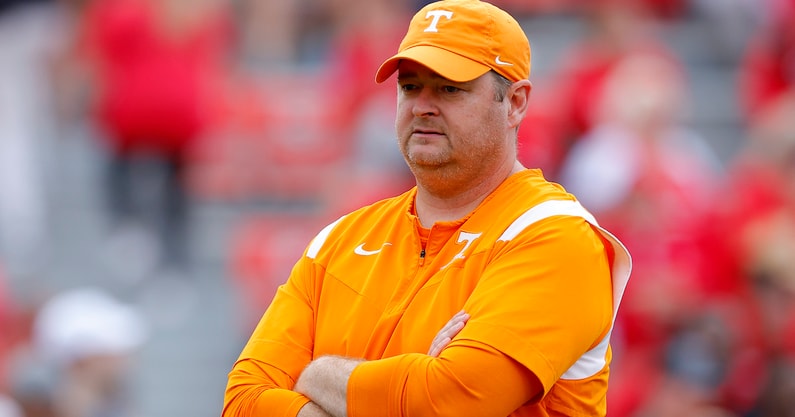 As the the NCAA's Independent Accountability Resolution Process (IARP) comes to a head in the case involving Tennessee and the former football coaching staff, current head coach Josh Heupel is keeping tabs. And as a whole, he said he and his bosses have been working with the NCAA as necessary.
The 18 alleged violations occurred under previous head coach Jeremy Pruitt, who is accused of offering monetary and other recruiting inducements in the pre-NIL era. Tennessee discovered and self-reported the violations, and then subsequently fired Pruitt in January 2021. Heupel was hired the same month that Pruitt was jettisoned and has been the Volunteers coach since.
As Pruitt and his wife, Casey, met with the IARP in Cincinnati on Wednesday for a hearing — that continued into Thursday — Heupel was asked about the case. He said he's keeping an eye on it, but doesn't worry about it impacting the program much going forward.
"Obviously we're going to pay close attention on the backend. As I've said from the beginning, I really believe this is a speed bump," Heupel said. "Feel like we're continuing to handle it the right way. Our administration has been forthright. They found it, they gave it to the NCAA. They've been nothing but cooperative the entire time." 
While most of the coaches and staffers caught up in the allegations managed to come to an agreed-upon resolution for their infractions cases — a plea deal, if you will — while Pruitt has fought back on the various alleged infractions against him.
A resolution to the case is expected sometime shortly after the IARP hearing this week.
Heupel revealed how Tennessee is handling 2023 expectations
"The expectations in the building are what matter," Heupel said. "We want the noise on the outside. High expectations, belief in what we're doing, but the work habits are what predicate where we're going to finish up. You've got to invest in it every single day. The success that we've had in building a program is because of the investment of our players and our coaches alike. The investment in this season has to continue to sharpen, and be greater. I love what we've done since we got back in January.
"We're essentially at the halfway point of our offseason, before we get to kickoff. We've got a lot of work to do. I love what we've done, there's a lot of work ahead of us though."